Who Is On My WiFi? 3 Awesome Way To Check
I think you'll agree with me when your WiFi speed is getting slower and you want to know:
Who is on my wifi? How do I check who is using or stealing my wifi?
I also used to ask myself the same question as you did and often wonder how to look at who is connected to my Wifi router.
Well, it turns out, you can very easily find all these information. I have used 3 very simple and awesome tools to inspect my wifi user and I use it both on Mobile and Windows PC.  Mac users can also follow the same.
And in today's post, I am going to show you which tool I use to know how many devices are connected to my wifi router and exactly how to use it. Stay tuned guys…
 Tools I Use To inspect who is connected to my wifi router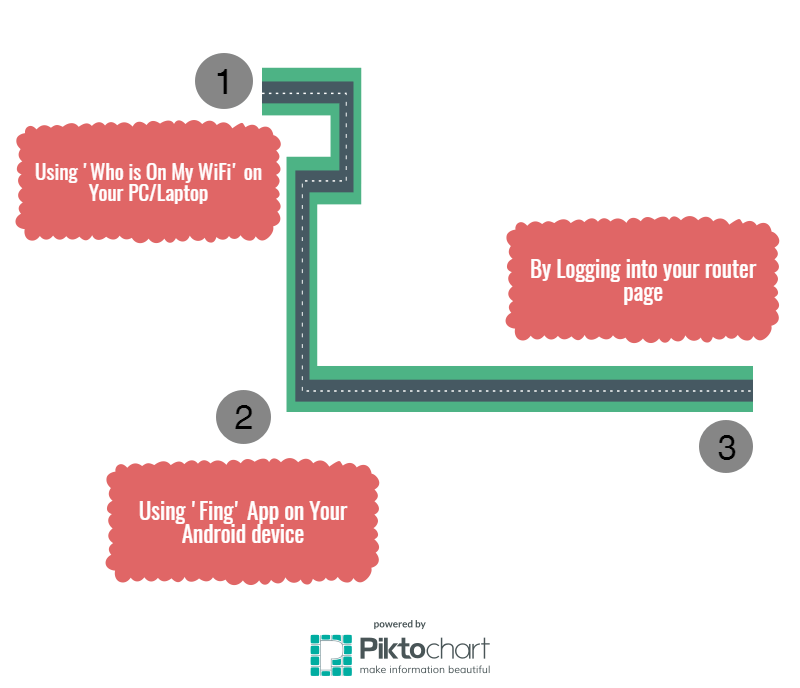 1. Using 'Who Is On My WiFi' Software on Your Windows PC and Mac.
This one is my favorite because it is so simple to use. Believe me…You will not need any other tool if you want to discover users accessing your wifi network from your router or modem.
This tool is very simple to use and provides some useful information about connected user's IP address and MAC address. You can Name the device that you know from the list too.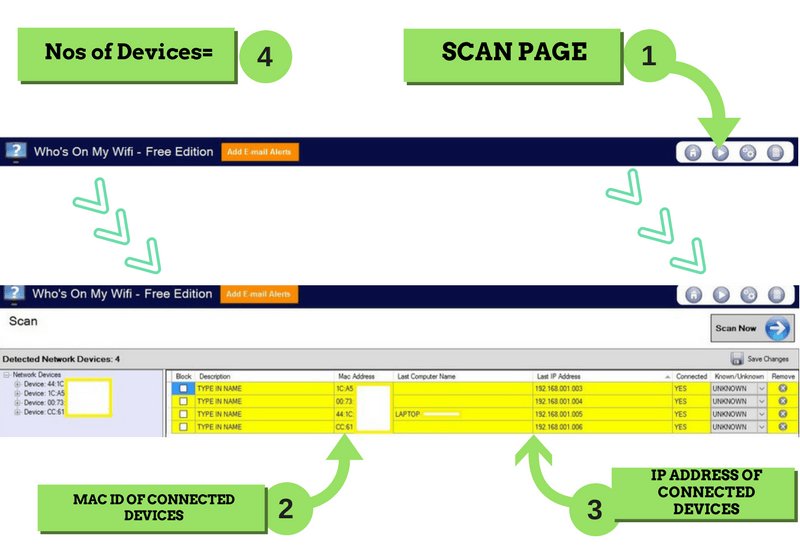 Now, you might ask how do I know which IP or MAC is mine? Don't worry… How to Geek has a post on How to Find Any Device's IP address and MAC address which will guide you step by step.
Windows User may download this software from CNET and Mac users can find it on iTunes.
Tips: Don't forget to Remove the devices before each scan. Otherwise, it will keep displaying the same result.
2. How do I detect wifi users from my mobile?
Fing. Yes.. that's the name of the app to look at wifi users on your network from your mobile device.
This tool is totally awesome. It not only tells you how many devices are connected to your wifi router but also tells you about the manufacturer of the devices, their MAC address, IP address. But the feature that I like most is…..
Its ability to ping to a domain.
You can check whether you are connected to the internet or not simply by using the ping command to any of the popular websites like Google, Yahoo etc. This feature comes in handy when you don't know what went wrong with your mobile device when the router is still working fine.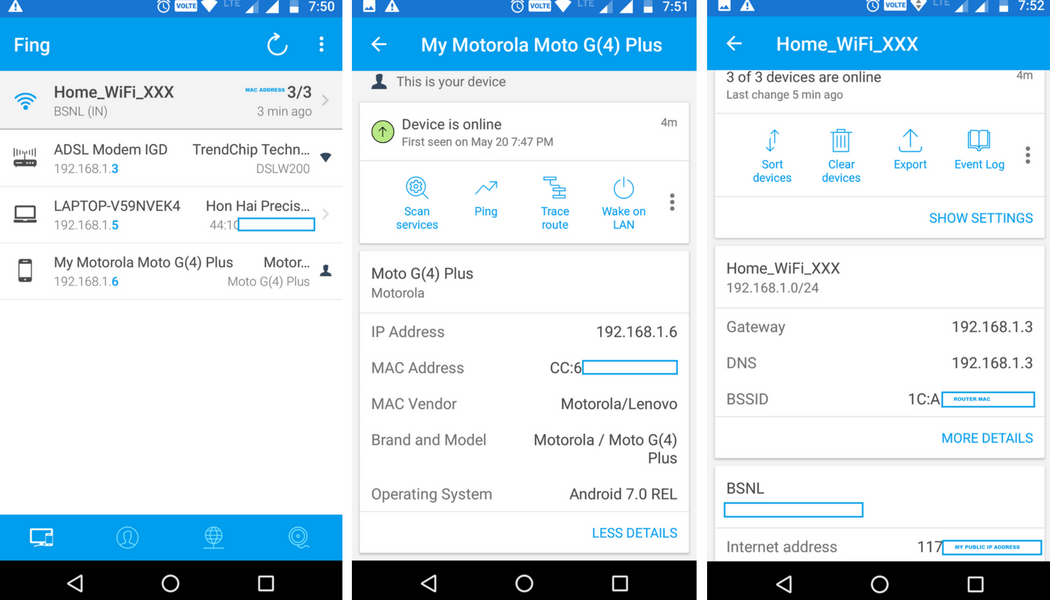 You can find this App on Google Play Store and on iTune Store.
3. By Logging into your router or modem page:
This one is for pro users. You do not want to install any app but still want to discover users who are using your wifi?
No worries…..You can do this by logging into your router page.
Now, there are thousands of router and modem out there and every router and modem have a different user interface which varies from router to router. It is simply not possible to cover all of them. It would take not less than one lifetime to do so.
But wait…
I will share few tips with you, which would make it easier to watch what devices are connected to wireless network.
First step involves Logging into your router/modem page. Then you have to search-
For BSNL DSLW200 / TP-LINK TDWD8951ND modem
Log in to router page → interface setup → lan → current pool summary
For D-Link modem
Log in to router page → wireless setup → associated clients → show  active client table
I hope this has given you an overall idea. Feel free to comment below if you have got any queries.
That's it. Let me know in the comment section below which method you would like to try for finding wifi users.
Loved this post? Why don't you share it with your friend. It would inspire me to write more posts to help you guys. You may like our Facebook page and follow Bpedia on Twitter and Google+ too. Ba-Bye.