BSNL DSL W200 SY firmware upgrade solves all its existing problem
If you have a BSNL DSL W200-SY ADSL modem chances are, you have encountered a couple of problems with this particular type of modem. One is the DHCP issue and other is the modem setup page not opening with 'admin' username and password. Today I am going to explain how to solve these issues with a simple firmware upgrade.
What are the existing problems?
DHCP issue: When your modem could not assign an IP dynamically to its connected host, this particular type of problem arises. Due to DHCP problem when you try typing 'ipconfig' command on cmd it will only show you the IP address as 169.254.×.×  instead of 192.168.1.×. Also, the default gateway field will remain blank. This particular type of IP(169.254.×.×) is called link-local IPV4 address. The 169.254.×.× range of IP is reserved by Microsoft for private network addressing when a host fails to get IP from the connected modem or a router. As a result, you won't get the internet. If you want to know more on this problem please see this article- DHCP issue of modem/router.
Modem setup page or configuration page issue: When this type of problem occurs you won't be able to access the modem setup page. The login with usual username and password( in this case admin) fails to open the page. If you are using chrome, you might get a repeated message saying the connection to the site is not private.
All you need to do is upgrade the firmware to get rid of these problems.
prerequisite: keep your broadband username and password handy before upgrading the firmware because we are going to hard reset the modem.
How to upgrade the firmware?
First of all, download the firmware from the link given below:
Download-BSNL-DSLW200-SY-firmware.zip (21659 downloads)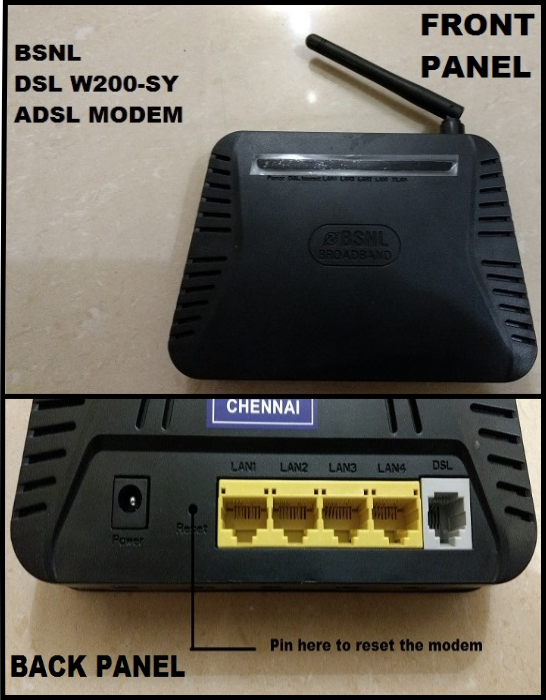 Step 1: Reset the modem
Press and hold the reset button placed on the back panel of your ADSL modem. Release the button after 15-20 Sec once the LEDs on the modem starts flickering. Wait for 1-2 minutes and try opening the modem setup/configuration page with 192.168.1.1.
Step 2: Backing up ROM file
It is always a good practice to back up your modem's ROM file.
Go to Maintenance→Firmware→click on ROMFILE SAVE
Step 3: Upgrade
Go to Maintenance→Firmware→ New Firmware Location→ choose file
Browse the firmware that you have downloaded and click on upgrade. Wait for few minutes before it asks to put username and password.
Step 4: Reconfigure your ADSL modem
After upgrading the firmware you need to reconfigure the modem. If you don't know how to configure the modem, don't worry, we have everything you need. Read this article- How to configure BSNL DSL W200-SY modem. I hope this helps you.
Liked this post? Please share it and support us by liking our page on Facebook and following us on Twitter and Google+. Keep visiting Bpedia. See you soon.