Disconnect BSNL connection: Surrender your Broadband, Landline and wimax
When it comes to disconnecting BSNL connection be it your broadband, landline, WiMAX or mobile, things will get easier for people like you and me if we at least know the basic requirements and process of surrendering or closing one's BSNL connection.
Today, in this guide I will explain you the complete process of surrendering BSNL connection so that you do not need to go to BSNL office twice to complete the disconnection process.
After reading this guide from Bpedia, you will be able to get a detail information about how to disconnect BSNL broadband, Landline, WiMAX, Mobile and WLL/EVDO(CDMA) connection. I have also attached BSNL surrender form and letter/application on this article.
So, let's dive right in.
What you need to know before surrendering your BSNL connection
A
Calculating Total Bill
Firstly, you have to pay all the outstanding dues (including current month's due) before closing your connection.
So, how do you know how much dues you have to pay?
Simply go to BSNL portal and select your type of connection from the top menu bar. For example, if you have a BSNL landline or broadband connection then choose Landline or if you are using BSNL mobile or WiMAX or a CDMA service, then click on Mobile.
Once you select your type of connection, put details such as your Landline number, Mobile number, Email ID etc and submit. After submitting you will get to see how much money you have to pay.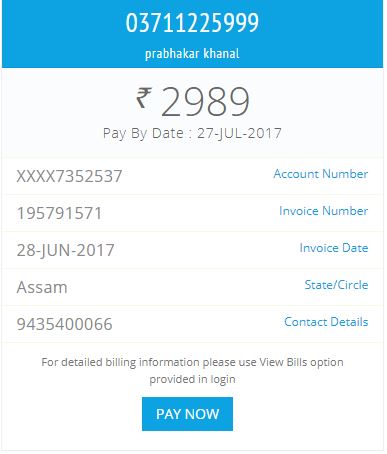 P.S: If you have already paid the bill, it will show '0' as the outstanding amount.
Please remember, you also need to pay the current month's bill to complete the disconnection process and unfortunately, this portal won't show you the running month's bill. So how do we check it?
Don't worry…. I will show you how to check it.
One way of checking your unbilled amount for the running month is by logging into BSNL selfcare portal and then by going to Bills and Payment section and Selecting View Bills. Under that, you will be able to see your current bill details.
The second method is by calling BSNL customer care center (18003451500 for Landline/Broadband and 18001801503 for Mobile and WiMAX).
P.S: If somehow, you are unable to find your running month bill from above mentioned two methods, simply estimate an approximate amount in addition to the bill that we have viewed on BSNL portal.
Here's an infographic showing how I calculated total dues I had before closing my connection: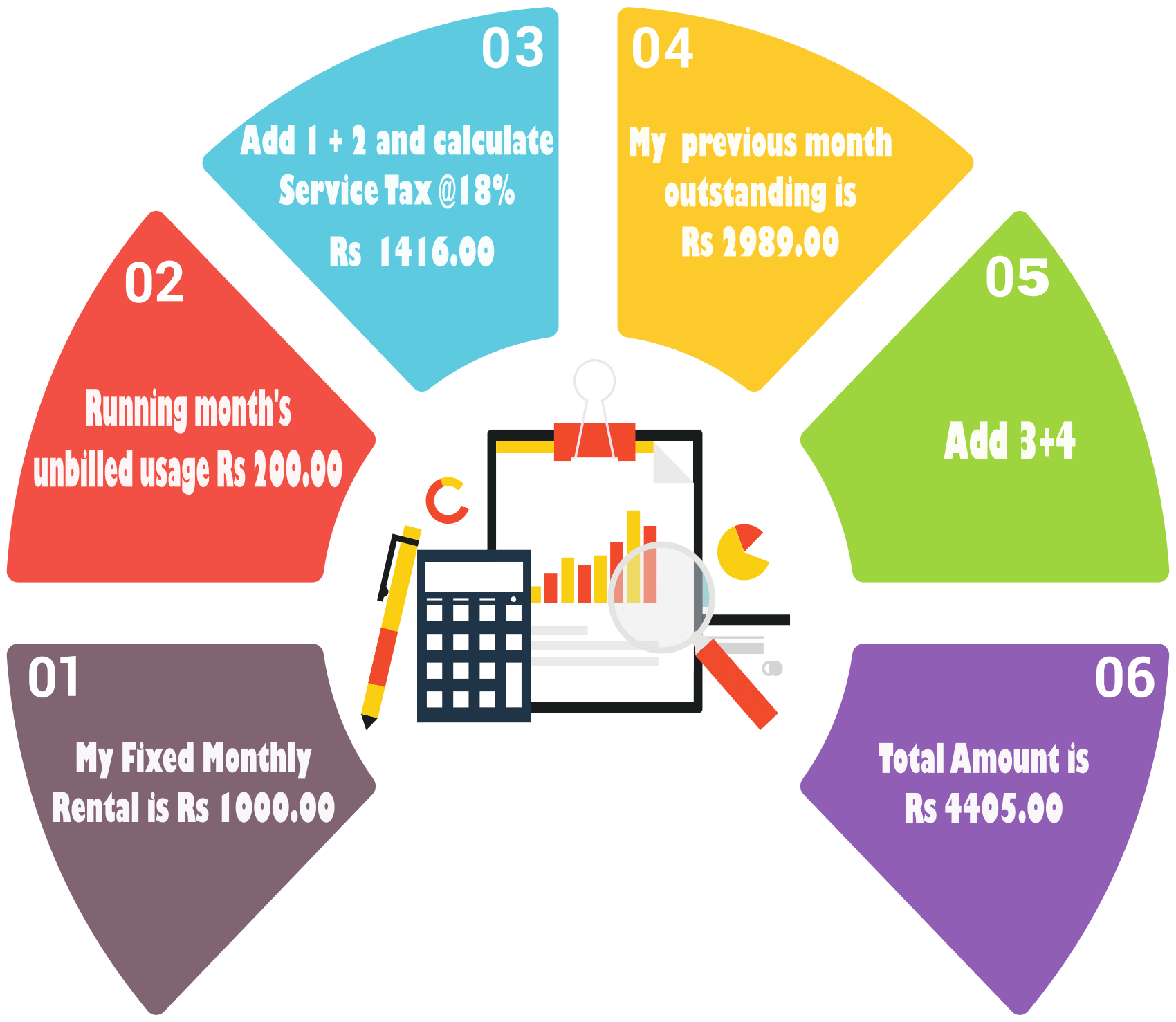 Now that you have an idea on how much money to pay, next is….
B
Packing belongings that you have got from BSNL
If you have rented any device from BSNL, you need to give them back. For example, if you have rented the Telephone receiver for your landline connection or a Broadband Modem or a WiMAX device from BSNL then you gotta return them all.
However, if you have purchased it, then you can keep them with you.
So, pack your bag with all these belongings if you have any.
C
Download BSNL disconnection or surrender form 
Next up, Download BSNL surrender form or disconnection form and fill the details accordingly.
Put your address correctly on the form, because the security money that you had deposited at the time of connection will be sent via a cheque on that address.
And the final step is…
D
Writing a surrender letter
Finally, write a simple surrender letter to the concerned authority. This surrender letter works with all types of services including BSNL broadband, landline, WiMAX, and mobile. This is what a typical BSNL surrender letter should look like: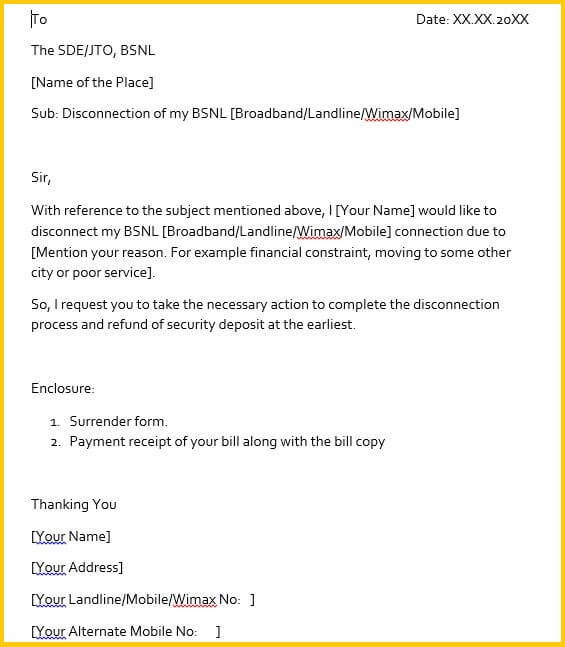 You can also Download this BSNL surrender letter format if you wish and replace all the necessary fields such as your name, date, and address accordingly.
E
Checklist
I have prepared a checklist for you so that you don't forget anything before heading to BSNL office. Make sure to carry all these things so that your disconnection process completes smoothly in a single visit to BSNL office.
Once you are sure that you have checked all the things that I have mentioned on the checklist, visit your BSNL office and tell them to prepare a bill ( including current month bill ) and pay the dues.
After paying the dues, take the bill receipt and enclose it along with BSNL surrender form and letter and submit it to the concerned authority. Also, don't forget to submit the equipment.
P.S: The security money that you had deposited at the time of connection will be sent to you via a cheque. Don't bother.
That's it, Say ba-bye.
If you have any queries, you can put your comment below in the comment section and I will try to reply within 1 hour. Liked this post? Please support us by liking our page on Facebook and follow us on Twitter and Google+. Don't be shy to share this post if you find it useful. Keep visiting Bpedia for more exciting information. See you soon.