Best Car Air Purifier in India (2019)
About 49% of Indian spend more than 2 hours commuting behind the wheels daily and…
77% of India's population is exposed to air pollution level that is above the safe limit.
These numbers are terrifying and if you commute a lot in your car, then there is a matter of concern.
That is why in today's post I will explain to you why having a car air purifier in 2019 has become absolutely necessary to you and your family's health and what are some of the best car air purifiers you can buy in India and their review.
What is a car air purifier and how does it work?
Even though your car has an AC, it does not mean it can give you fresh non-polluted air.
The outdoor air is filled with allergens, dust and pollen, pet dander, cigarette smoke and Particulate matter(PM) and they can easily enter into your car even if you have your AC turned on.
So, an air purifier filters out these harmful pollutants by forcing the surrounding air to pass through the purifier in a repeated cycle.
The working principle of air purifier is similar to that of a water filter.
The Air purifier sucks the surrounding polluted air and it forces the air to pass through the filter of the purifier. After 15-20 minutes of the repeated cycle, the air purifier starts to give clean and purified air.
Do you really need an air purifier for your car?
Let's decide that by looking at the below infographic-
According to WHO, world's most polluted cities are in India.
India ranked 141 out of 180 countries in Environment performance index.
Your life expectancy decreased by 1.7 years due to the exposure to air pollution in India.
In 2017 alone, 12L people died in India due to air pollution. Among these, 6.7L deaths occurred due to outdoor PM(particulate matter) air pollution and 4.8L deaths due to indoor air pollution. india is among most polluted country in the world.
Considering all the above facts, you really should consider buying an air purifier for your car unless you have any other means to protect yourself from pollution when commuting through these polluted cities.
Do car air purifiers really work? Are they effective?
The answer is – Yes, car air purifier works.
Most of the time we are not aware enough about the quality of air present inside a car. The outdoor air pollutants can also get inside your car. These include pollen, smog, PM 2.5 and PM 10 particles, allergens, formaldehyde, bad odors, etc. and these pollutants may affect our health badly.
So, a car air purifier helps to remove all the pollutants present inside your car with its filtration technology. But…
Are car air purifers effective?
Well, to be honest not all of them are effective.
You have to be careful while choosing a purifier for your car. You have to look for important features like HEPA filter, Carbon Activated filter, CADR, Noise level, etc in a purifier which we will discuss in detail below.
What features to look for in a good car air purifier
Let's look at some of the must-have feature you should look in a car air purifier before making a purchase.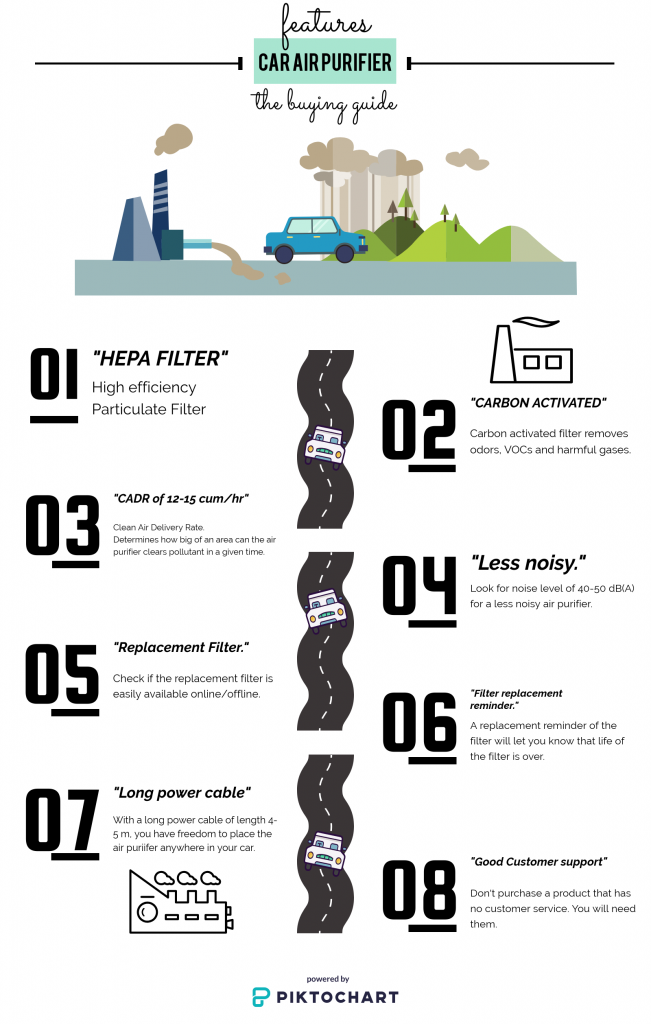 1) HEPA Filter
When you are buying an air purifier, the first thing you should look in its specification table is HEPA filter. HEPA means High-Efficiency Particulate Air.
HEPA filters have an efficiency of 99.97%. This means- HEPA filters are able to trap 99.97% of particles that are the size of 0.3 microns. This also means it only allows 0.03% of particles that have a size of 0.3 microns or more.
So, what is micron?
Micron or micrometer is a unit of distance. In order to understand how much a micron is, let's consider the example of a human hair.
A human hair is typically 100 micron in size and a HEPA filter filters particles that are 300 times smaller than a human hair.
Particulate matter(PM), are tiny particles suspended in air. They reduce visibility and cause the air to appear hazy when levels are too high. This is often seen in cities like New Delhi, Mumbai, Beijing where pollution level can go way more than safe limit.
PM2.5 are the particulate matters of size 2.5 microns and PM10 has a size of 10 microns.
So, a HEPA filter screens out particles that are 10-30 times smaller than PM2.5 and PM10 particles.
Make sure to look for HEPA filter specification before purchasing a car purifier.
2) Carbon Activated Filter
In addition to HEPA Filter, Your car air purifier should also have Carbon Activate filter. A carbon activated filter helps in getting rid of VOC(Volatile organic compounds), bad odors and harmful gases.

They are designed to filter gaseous pollutants through a bed of activated charcoal.
3) CADR(Clean Air Delivery Rate)
CADR is nothing but Clean Air Delivery Rate. It is the efficiency of an air purifier. It determines how effectively an air purifier filters out the air pollutants in a given period of time.
For example, if you see a CADR reading of 15 cubic meter/hour, this means, the air purifier removes pollutants from 15 cubic meter area in an hour.
So, higher the CADR, better the air purifier's air cleaning rate is.
A CADR rating of 12-15 cubic meter/hour is ideal for a small car to a SUV.
Normally a car air purifier has a lesser value of CADR than a room air purifier because they often don't need to purify air from an area that is as large as a room.
4) Low Noise
You don't want the air purifier to be noisy, do you?
You are driving and attending an important call and you suddenly hear a loud noise. You look around and found it's the dam* air purifier.
What would you do? Probably turn off the air purifier till your call ends. But that's not the solution right.
So, before buying, you should look at the specification and check for the noise level of the air purifier in dB.
How much noise is not too noisy?
Typically noise level of 50 dB is not too noisy. A refrigerator has a noise level of 50-55 dB.
So, make sure you check the noise level on your air purifier.
5) Replacement Filter and its life span.
Like everything else in this world, the filter of a car air purifier has a life too and after that, you have to replace the filter.
Purifiers recommended on this post has a life span of 350-360 hours.
Normally an air purifier having a life of 360 hours would last for 5-6 months if you use it 2hours daily.
Here, you need to look for two things before buying one.
1st is cost of replacement filter and how easily it is available online/offline.
If you decide to go with some never heard brand then you would probably throw the air purifier once the life of the filter gets over, because it is too hard to find their replacement filter in the market.
It is easy to purchase replacement filter of well known brands like Honeywell, Philips.
2nd thing you need to remember is the cost of the filter. Make sure it is not expensive.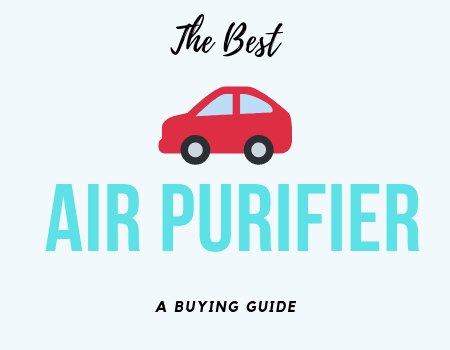 6) DIY Easy Installation
You are going to install the air purifier on your car by yourself and for that reason, the installation procedure should not be tricky.
Most of the air purifier comes with velcro fastener sets and adaptable belts to install them easily and on anywhere.
You can place the purifier on a car's dashboard, below the seat or on the rear tray.
7) Filter Replacement reminder
You have been using the air purifier for a long time without knowing the fact that its filter life span has already been over and you had no idea about that.
So, a filter replacement reminder on your car air purifier makes your life a lot easier.
A filter replacement reminder will tell you when to change it.
So, make sure your air purifier has this feature.
8) Long Power Cable
With a long power cable, you will have a freedom to place the purifier wherever you want inside a car..
With a long power cable, you can place the device below the seat, on the rear tray or on the dashboard.
So, make sure to check it has a power cable of length atleast 4-5 meter long.
9) Good Customer Support
You've bought a great product with great specification on a cheap price only to find out that there is no after sales support.
Would not you feel cheated? Yes, you would. Definitely.
You might need the help of customer service with installation or replacing the filter or during any malfunction that your device experiences. What would you do at that time if the manufacturer has no customer support?
So, it is very important to check if the product from where you are buying has good after-sales support.
And it is a known fact that product from a good brand normally has good customer support.
Recommended air purifier for your car – small to SUV
We have gone through all the important features of an air purifier. Now let's find out some of the best car air purifier and review of them-
Brand

Honeywell

Honeywell

Philips

Model

Honeywell Move Pure

Honeywell Move Pure 2

Philips Gopure compact 100 Airmax

HEPA Filter

✅

✅

Airmid certified unique select filter

Carbon Activated Filter

✅

✅

❌

CADR

12 cubic-m/hr

15 cubic-m/hr

Fine Particles=14 cubic-m/hr
Toxic gases=11 cubic-m/hr

Noise Level

Less than or equal to 49 dB

52 dB

40-50 dB

Filter Replacement Indicator

✅

✅

✅

Replacement Filter Availability

✅

✅

✅

Air Quality Indicator

❌

✅

❌

Length of Power cable

5m, 12V DC

5m, 12V DC

4m, 12V DC

Warranty

1 Year

1 Year

1 Year

Customer support

✅

✅

✅

Overall Rating

4.8/5

4.4/5

4.6/5

Price

Rs 5900.00

Rs 13500.00

Rs 7600.00
Now let's look at feature and specification of each of the recommended car air purifiers in details-
1. Honeywell Move Pure Car Air Purifier
Honeywell Move Pure is not only cost effective, but it also does it job quite efficiently and there is no doubt that this product is best among all.
This car air purifier by Honeywell is ideal for removing PM2.5 particles, dust, external pollutants, VOCs, formaldehyde, cigarette smoke, bacteria, virus, toxic gas, and odor.
This product is ideal while travelling with kids, pregnant woman, allergic and asthmatic individulas.
Features
High Grade HEPA Filter along with doubled layer carbon activated filter
Removes PM2.5 and PM10, dust, VOCs, cigarette smoke, bacteria, virus, bad odors and toxic gases.
CADR of 12 cum/hr – ideal for small to SUV cars.
Noise level of 49dB
5m Long power cable gives you freedom to place the purifier anywhere in the car.
Filter Replcament reminder.
One single button to control on/off, fan speed and filter replacement reminder.
Filter life of 360 hours.
Cost of replacement filter Rs 930.00
2 sets of velcro fastener for quick installation
PROS
Excellent price to performance ratio.
Has all the important features.
CONS
No real time pollution meter or air quality indicator.
2. Honeywell Move Pure 2
Honeywell Move Pure 2 is the elder brother of Honeywell Move Pure, it comes with a real-time pollution meter where you can read the air quality. With this feature, you will be able to monitor the quality of air inside your car.
As it does its job, you will be able to see the quality of air improving.
Ideal for kids, asthmatic patients, people allergic with dust, pregnant woman.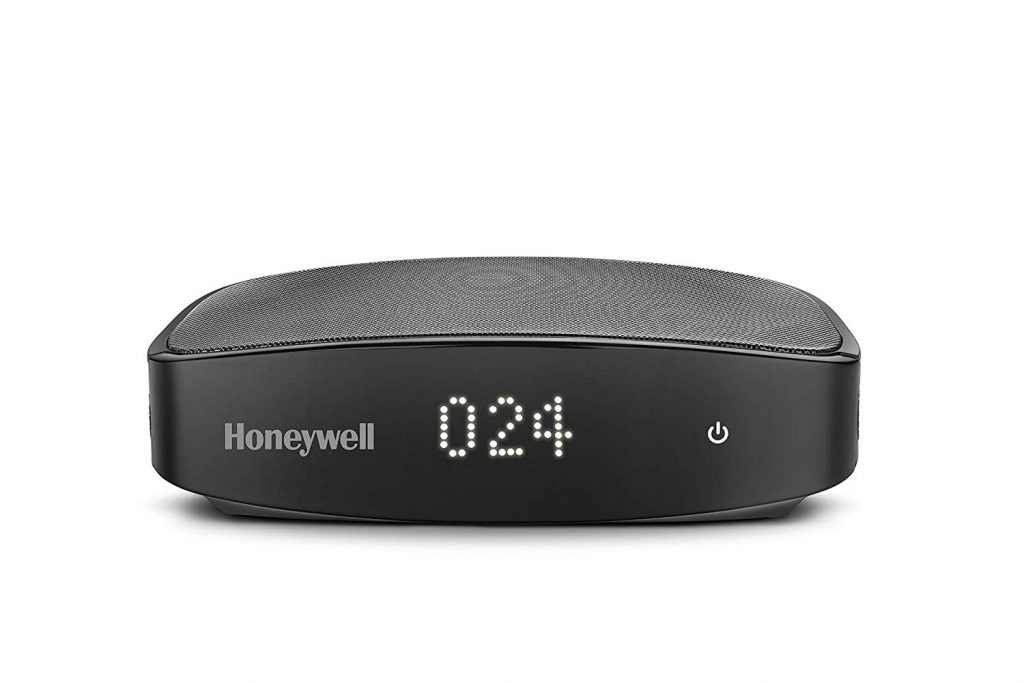 Features:
Real Time pollution meter with air quality indicator.
High grdade HEPA filter with advanced double layer carbon activated filter to remove all the pollutants, toxic gases, bad odors.
CADR of 15 cubi-m/hr.
Low noise level of <=52 dB
Touch screen button with filter replacement reminder.
2 sets of velcro fastener for quick installation.
FIlter life of 360 hours.
Cleans air in 10 minutes.
PROS
Real time pollution meter reading.
Has all the important features.
3. Philips GoPure Compact 100 Airmax
This purifier from Philips has a unique high-efficiency filtration technology that is certified by airmid.
For easy installation, it comes with attachment belt, anti-slide pads, and suction caps.
Like other purifiers recommended on this blog post, this purifier is too
designed for kids, allergy sufferers, asthmatic patients, pregnant woman, pet owners
Features:
CADR of 14 cubic-m/hr for PM2.5 and 11.5 cubic-m/hr for toxic gases.
Airmid certified unique select filter technology.
Automatic switch on/off with car engine.
2 speed fan. Noise level of 40 dB to 50 dB.
Filter replacement reminder.
Filter life of 350 hours.
Cleans air in 13 minute,
4 m Long 12 V power cable.
Replacement filter costs Rs 1500.00
PROS
Has all the basic important features.
CONS
Though philips claims this air purifier removes bad odours, but it does not have carbon activated filter.
No air quality indicator.
I hope you have liked this post on the review of some of the best car air purifier for your small car to SUVs. If you have any queries you may put it on the comment section below.