Best WiFi Range Extender in India for home
Are you annoyed with poor wifi reachability throughout your home or office? You are not the only one who faces such a crisis.
Many of us faced a lot of trouble due to poor wifi coverage of the router. However, there is a simple solution to increase wifi coverage or boost wifi signal strength of your network using a wifi extender.
Today, in this post you will find the best wifi range extender for home or office use in India. And at the end of the post, I will recommend a single wifi range extender instead of multiple ones so that you don't end up getting confused about which one to purchase.
What features do you need in a Wifi Range Extender for home or office use in India
A. Maximum Coverage
What I want to say is that there should not be any compromise in wifi coverage when you are paying for a range extender. It should be able to cover the entire area either of your home or office which your router could not.
Your device should be able to easily transmit the signal to the 1 st floor or 2nd floor if the router is placed on the ground floor.
B. Dual Band – 2.4 GHz and 5 GHz
It is important to have a range extender that supports both 2.4 GHz and 5 GHz wifi band. The reason is very simple – 2.4 GHz wifi band is prone to interference. If you are already staying in wifi crowded zone – meaning if there are already many wifi access points running in and around your place, then you are likely to get interfered with them.
However, there is very little interference in the 5 GHz wifi band. So it is important to have dual-band wi-fi range extender in order to use seamless wifi service.
C. Compatibility
Compatibility is another important factor of a good range extender. A good range extender is supported by all types of standard router.
So make sure the wifi range extender you are purchasing is compatible with the wifi router you already own.
D. Easy installation and setup
For a not so tech-savvy people, sometimes it becomes a little complicated to install the range extender.
You do not want to stick in the installation process, do you?
So, a range extender that is easy to set up and install is always a bonus. Most of this device comes with easy installation; all you need to do is plug in the device to a power outlet and connect it wifi your wifi router to enjoy seamless wifi service at your home or office.
E. A mobile app to control the WiFi Range extender
With the help of a mobile app, you can control all the important functions of the range extender. You can easily set up and change the password or SSID of the device.
So it is also important and handy to have a mobile app of the manufacturer you are buying from.
So, which is the best wifi range extender or booster available in India for long-distance
Features of TP-Link AC-1200 performance
A) Ideal for extending wifi to Alexa/echo devices, smartphones, smart tv, and all other wireless-enabled gadgets including smart bulbs.
B)Ideal for HD streaming and gaming.
C) Works with all standard routers.
D) Determine the perfect location of installation with the help of an intelligent signal indicator.
E) Easily expand the wireless coverage area with a push button to every nook and corner of your house.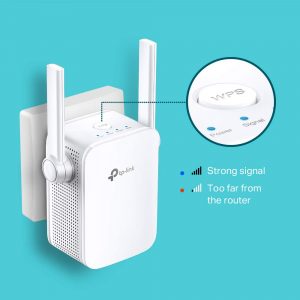 F) Ideal extender for Jio Gigafiber, BSNL broadband, and FTTH users.
G) Operates over dual-band wifi- both 2.4 GHz and 5 GHz and you can experience seamless wireless service without interference from other wifi networks.