Best Video Door Phone in India – 2019
I will try my best not to confuse you by recommending too many products. When people say what is the best video door phone or video intercom system then it is going to be tough to say 'buy this one, it's simply the best' because different people have a different need. The requirement varies from people to people. You might need a simple video door phone where you can talk to outside visitors when someone rings the doorbell or maybe you need it with all the latest features like electric door lock release, voice changer, email notification and many more.
Whatever your case may be, I will try to recommend you only one video door phone or video intercom system that fits your requirement so that you don't get confused.
Without any further ado…Let's begin to find the best video doorbell in India.
What is a video DoorPhone and How does it work?
A video Doorbell or a video door phone system is a set of device where you can interact with outside visitors at your home who rings the doorbell. It mainly has one outdoor unit with the inbuilt camera, speaker and a push button. The indoor unit has a monitoring device.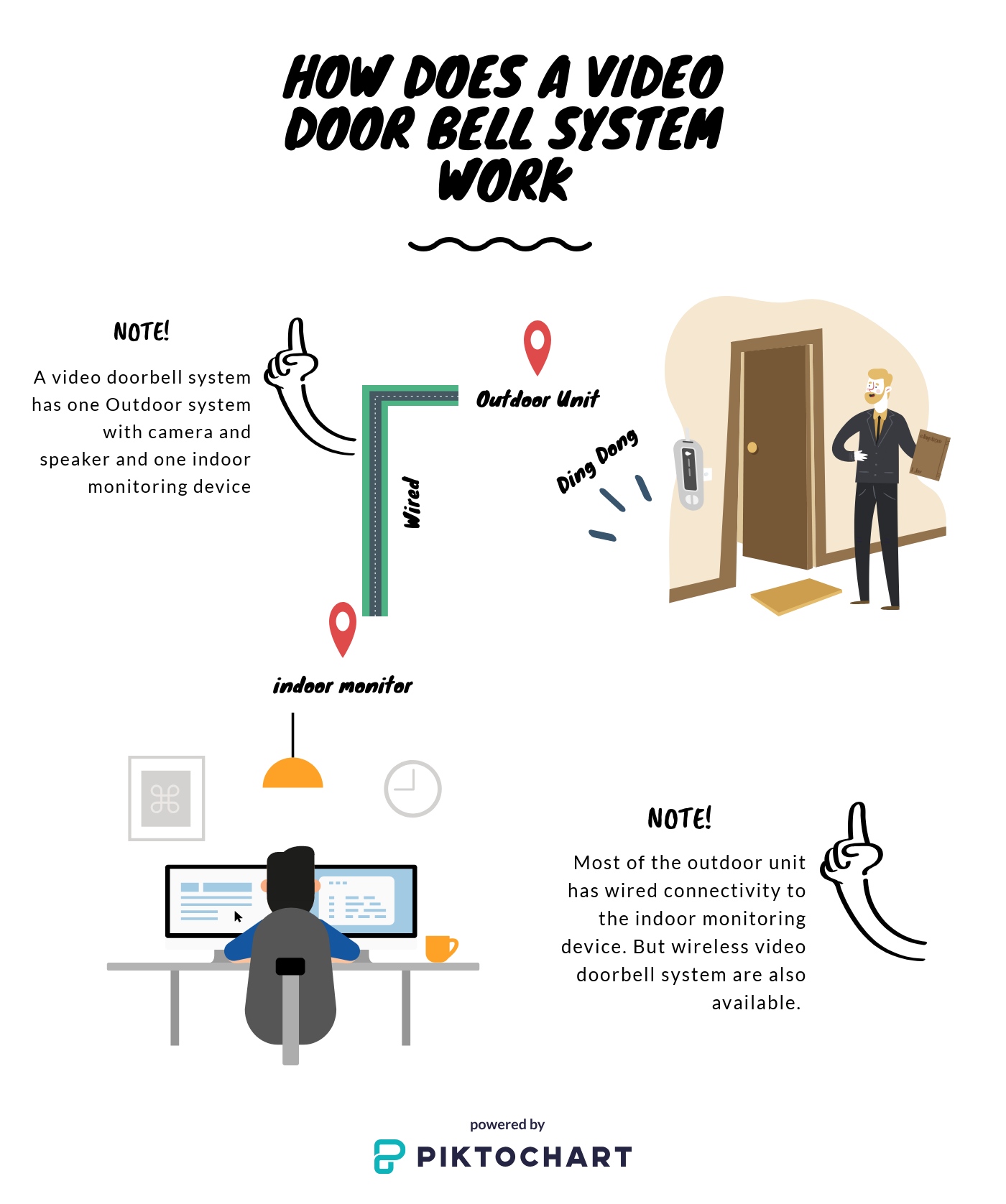 When outside visitor rings the doorbell, you get an instant alert on the indoor monitor and can start interacting with visitors.
Some of the indoor monitoring devices support wireless connectivity between other mobile devices where you can do all the staff as you do on an indoor unit. Email notification, night vision camera, adjustable camera, voice changer, automatic door lock-release, talk from anywhere etc. are some cool features nowadays that comes with a video door phone.

How to decide which video doorbell do you need?
Deciding which video door phone system do you need is entirely depends on your requirement. There are plenty of video intercom system out there to choose from and you are bound to get confused if you don't know exactly what features you need in a video doorbell.
So before buying a video doorbell or video door phone system for your home or apartment, let's take a look at some scenario and decide for yourself which scenario suits your requirement the most.
To make your job easier, I have designed an infographic on how to decide which video door phone system you need for your home or apartment –

Please understand that below illustration is made only to help you. At any stage, if you think that scenario explained below does not fit your need then you can choose from any of the video doorbell systems after reading its pros, cons, and specifications. My aim here is to help you.
Firstly, let's consider –
Scenario 1
Mr. X lives with his family. He has a job and his wife is a housemaker. He might not need some fancy video doorbell with too many features in it as his wife is already there to answer the visitors.
In this case, he can opt for a basic featured doorbell where he and his wife can interact with visitors when they are around home. Godrej Security solution solus 4.3 lite video door phone might be best fit his requirement.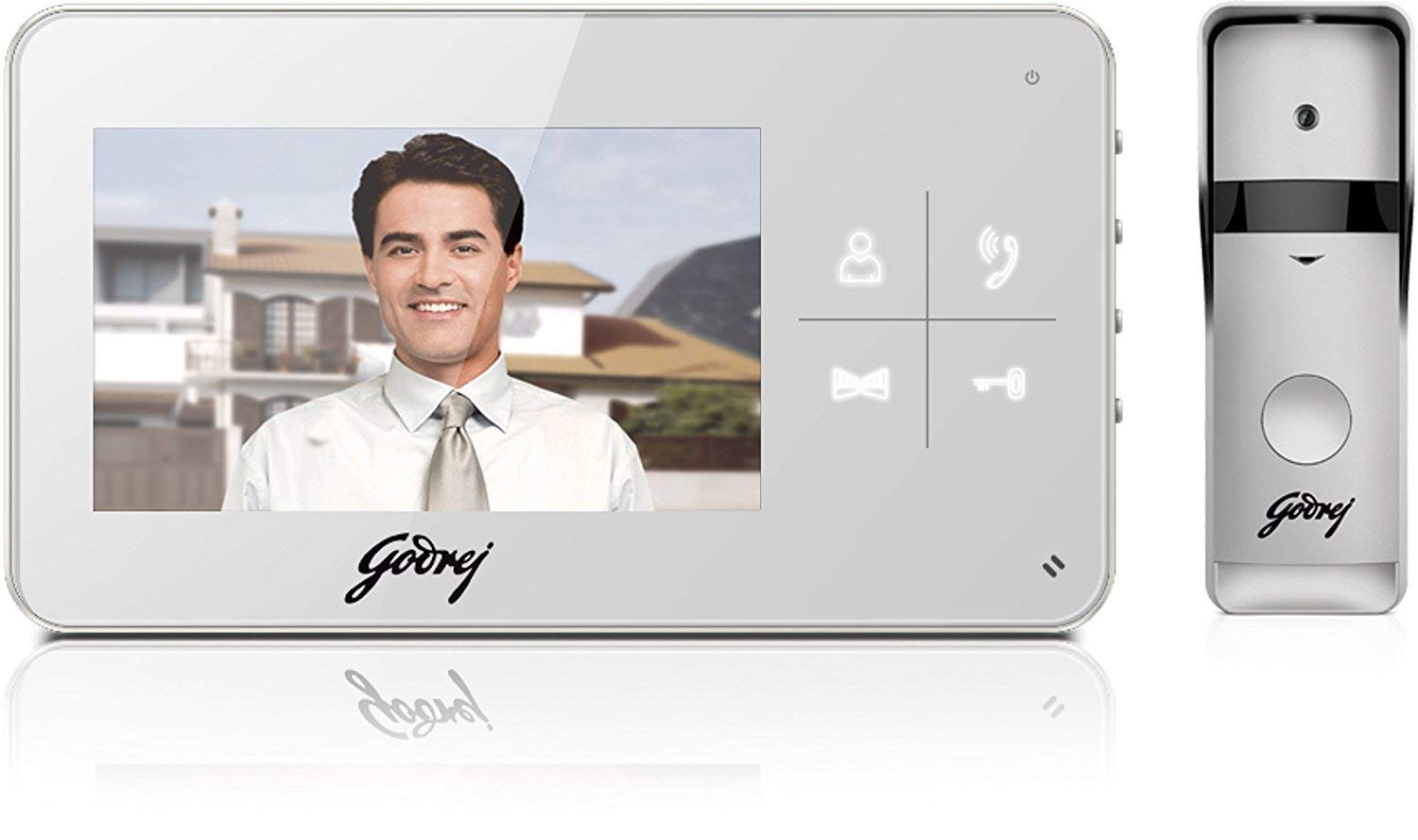 What's in the box and how it works?
The box contains 1 piece indoor unit having 4.3-inch color monitor, 1 outdoor unit i.e doorbell, mounting accessory and connectors.
Installing the Godrej doorbell is quite easy. Place the outdoor unit near the entrance of your home. The connectivity between the indoor monitor and the outdoor unit is wired.
You can call Godrej customer support at 1800-2099-955 for installation.
FEATURES:
The package of Godrej Security solution contains 1 indoor unit and 1 outdoor unit with mounting accessories and connectors.
One Year of warranty.
Night Vision.
The company claims that the outdoor unit is weatherproof.
Dual benefit of monitoring an outdoor visitor and talking at the same time.
The indoor monitor has a 4.3-inch color display with adjustable brightness, contrast, and ringtone.
Supports 2 outdoor unit. Meaning you can connect two outdoor cameras to the indoor unit at the same time.
Scenario 2
Mr. X lives alone at his job and he has a fixed timing job. As no one stays at his home when he leaves for work, he remains anxious about the safety of his home.
In this scenario, he might need a video doorbell or a video door phone system which can capture the picture of visitors who ring the doorbell of his home and send an instant alert to his mobile phone no matter where he is. An ideal choice would be the Panasonic Video Intercom System With Smartphone Connect VL-SVN511SX. 

What's in the box?
The box of Panasonic SVN511sx contains Installation guide, Operating instruction manual, outdoor unit, power supply unit, door controller relay.
Check the video directly on the Panasonic youtube channel.
FEATURES:
Smartphone connect option – You can use your smartphone or tablet as a sub-monitor to respond to visitors and to lock and unlock the door anywhere from your home. In order to do that, you will need a wireless router. All three devices i.e the indoor monitor, smartphone and the wireless router should be connected to the same network (internet).
If you don't have a wireless router, you can still talk to the visitors on the main indoor monitor device of Panasonic SVN511 and do all the other tasks seamlessly. Only if you want to connect your smartphone; you will need that wireless router.
Does the internet required on the wireless router?… Not really. Even if your router is not connected to the internet, you can still do all the tasks from your smartphone. But to work the email notification feature, you will need the internet.
The indoor monitor has a wired connectivity with the outdoor camera(doorbell).
If you don't want a wireless router and you still want that mobility, then go for Panasonic SW251SX which comes with an indoor sub monitor that connects directly to the main monitor through inbuilt wifi in.
Wi-Fi connect – Connect up to 4 mobile devices.
E-Mail Notification –  If you are away from your home, you will get an instant alert to your inbox when a visitor rings the doorbell of your home.
Electric lock and release – With this feature you can unlock and lock the gate of your home directly from the indoor unit.
Night Vision Camera – It has a night vision camera on the outdoor unit so that you can monitor easily any visitors when it is dark outside.
Voice changer – This safety function makes a woman' voice sound like a man's when speaking to a visitor.
Picture Recording – When someone rings the doorbell, instantly 8 consecutive pictures are taken and saved on its internal memory. You can watch the saved images at any time.
Panasonic SW251SX is ideal for those who do not have a wireless router or do not want to buy an additional router just to connect their smartphone. Instead, Panasonic SW251 SX comes with a wireless indoor sub monitor where you can operate the video doorbell system anywhere from your home.
What's in the box?
The box contains one outdoor unit i.e the doorbell and camera,12.7 cm main indoor monitor and one wireless handset (sub monitor)
The Pansonic SW251SX has almost same feature as Panasonic SVN511SX with some differences
It comes with a wireless indoor sub monitor along with the main monitor. However, Pansonic SVN511SX does not have any indoor sub monitor( only smartphone connect)
It does not have an option for smartphone connect but the indoor sub monitor connects wirelessly to the main monitor display and you can carry the wireless handset or indoor sub monitor anywhere around your home and do all the tasks like talking to visitors, unlocking door etc. seamlessly.
It also has night vision, voice changer, picture recording feature like SVN511SX,

but it does not have the email notification

feature which might come handy when you are outdoor.
Scenario 3 and Scenario 4
For scenario 3 and scenario 4 wherein both the cases, you might need a video door phone system that can be operated from anywhere; No matter how far you are from home.
The best fit, in this case, would be Ring Wi-Fi enabled video doorbell.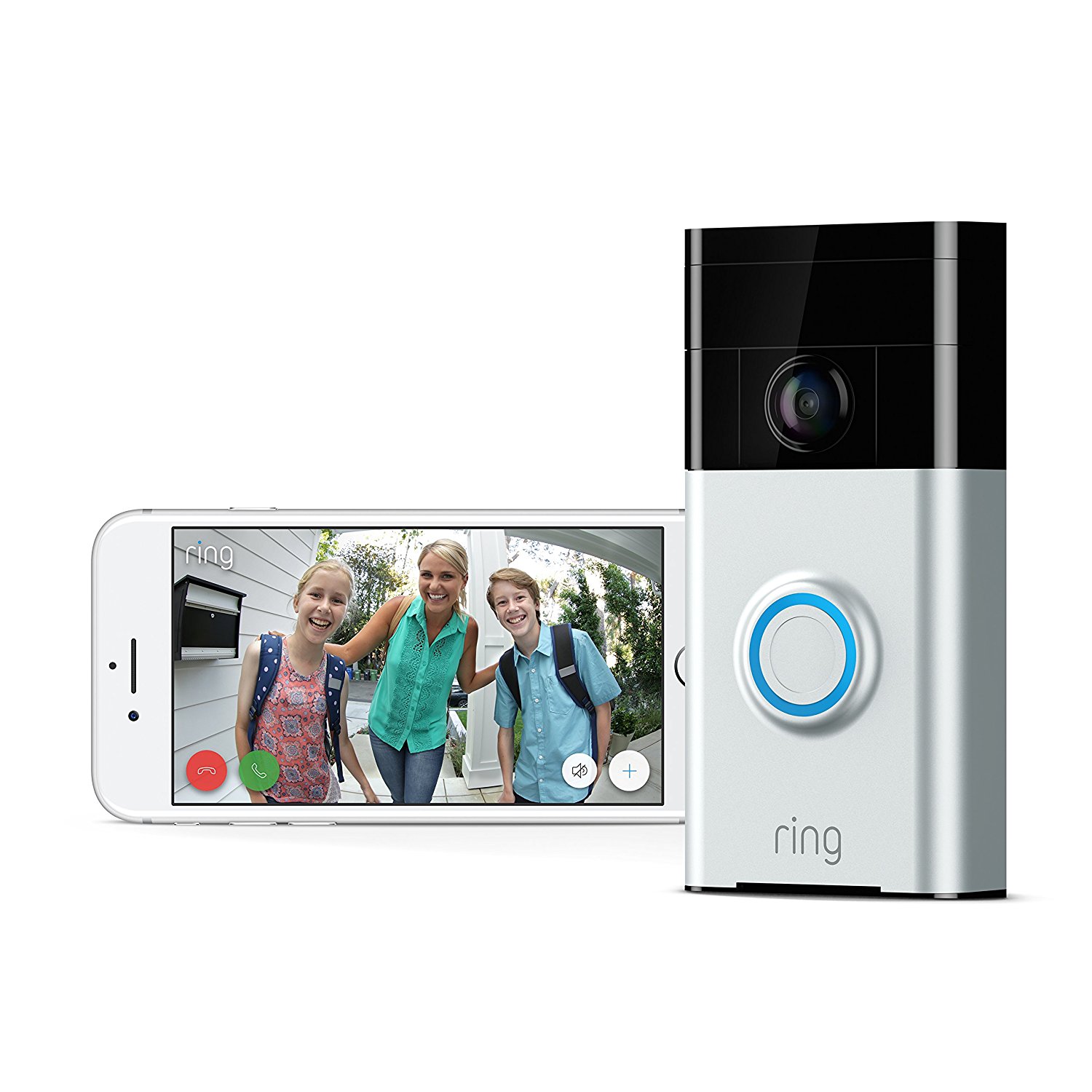 FEATURES:
Completely wi-fi enabled video doorbell.
Dual power option- It comes with dual power option. You can either power it with your existing mechanical or digital video doorbell by connecting it with it or it has a rechargeable set of battery that can go up to 12 months in one recharge.
Important: If you want to power it with your existing doorbell then you should know that it supports 8-24 volt AC power, which is not easily available in India. So the best option here is to use the rechargeable battery as a power option provided along with the doorbell. The battery recharges with normal micro USB cable and in one single recharge, it goes till 12 months.
Connects to your smartphone through your home wifi network (internet required). You can chat with visitors no matter where you are in the world.
It supports video up to 720p.
Motion tracking – Meaning if someone near the doorbell makes a movement or triggers its inbuilt motion sensor, you will get instantly notified.
Two way talk with noise cancellation.
Infrared night vision camera.
As it does not have storage capacity, the video and images get stored at their cloud. And you will get a free trial for 30 days period to use their cloud service. Once your trial expires, you have to pay an additional charge to use their cloud service. If you do not want to pay for it, you can still talk to visitors in real time from anywhere, but you will not be able to watch and share previous videos.
Watch this video directly on Jordan Keyes youtube channel.
How To Install Ring Video Doorbell?
How Ring Video doorbell works.
Installing Ring Video doorbell with existing doorbell.
Installing Ring video doorbell without existing video doorbell.
Charging the battery in Ring Video Doorbell.
For Indian buyers, for any support related queries during installation, you may contact at +91-9742889797.
Scenario 5
Mr. X lives in a multi-storey building or if you have multiple entrances at your home and you want to put two doorbells at the two diffrent gate; then you should look for a video doorbell that supports more than one camera or outdoor unit.
In this case, you can go with either Panasonic Video Intercom System With Smartphone Connect VL-SVN511SX or Panasonic SW251SX.
Both are very good video doorbell with some differences. Please read scenario 2 where I have explained everything you want to know about these two video door phone.
So, what is the best video door phone system that you could buy?
The best video door phone is the one that fits your need. Highly priced product with too many features on it does not mean anything if you don't even need that. Instead, just make a list what you want in a video doorbell and read this post completely. I am sure you will figure it out by yourself at the end of your post.
Above is the list of some the best video door phone in india that one can buy from amazon. If you know something that you are using, then you can put it on the comment section below.