Boat Stone 260 Portable Bluetooth Speakers Review. Should you buy it?
It's not just a speaker, it's a lifestyle – that's what the company says about its Boat Stone 260 Portable Bluetooth Speakers.
At first glance, the design looks quite impressive and sleek, funkier than funky, colorful, absolutely light-weight but how well does it perform? Is it worth to buy?
Let's figure it out in this review of boat stone 260…..
What qualities to look for before buying a good portable Bluetooth speaker and does Boat Stone 260 Portable Bluetooth Speakers fits in it?
Don't just throw your money on any product. Do some basic research before buying.
So in a good portable Bluetooth speaker, we look for its battery life, cool look, build quality, good price and of course the most important thing its sound quality. So let's take a look at each of Boat Stone 260 Portable Bluetooth Speakers quality (both good and bad) and decide for yourself if it is worth buying or not.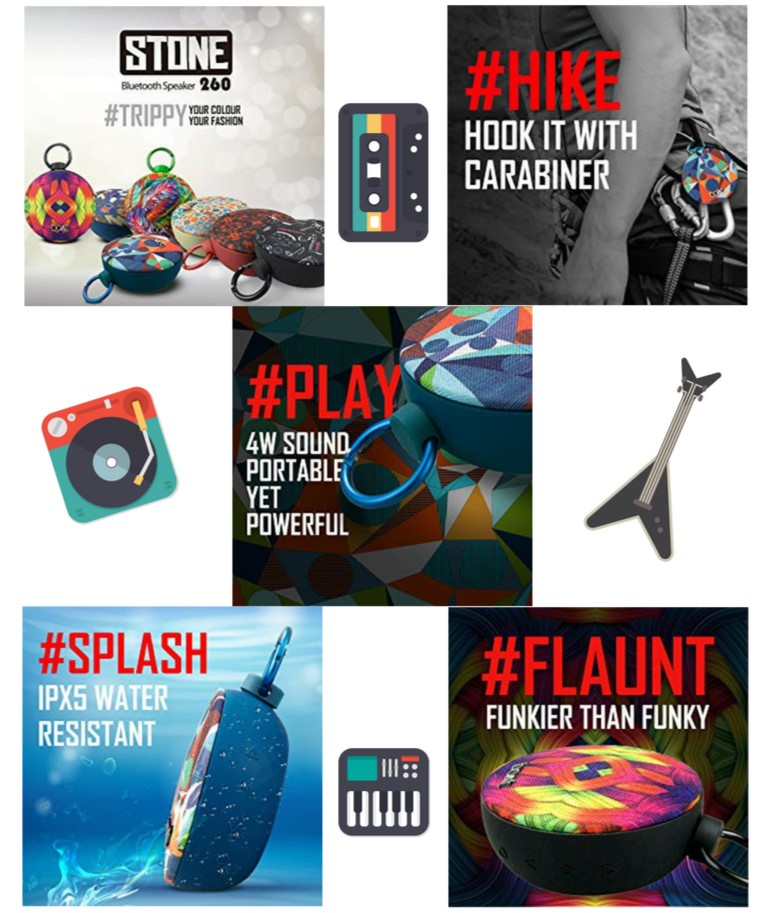 Boat Stone 260 Specifications
Let's have a quick look at the boat stone 260 specs table-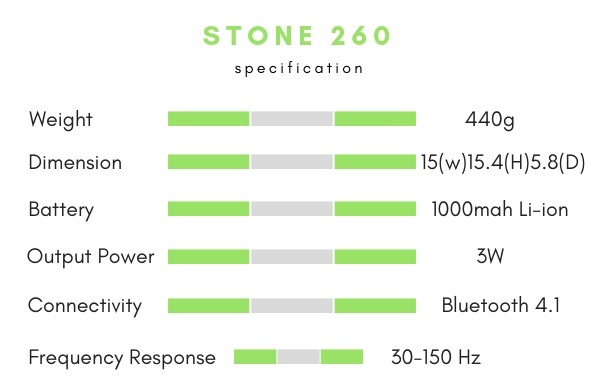 IPX5 Water Resistance
You might think what the hell is this IPX5 now….
When I did some research online, I find out that IP (or Ingress Protection) ratings are part of a rigid standard, published by the International Electrotechnical Commission, and backed by stringent laboratory testing. Those tests resulted in two digits, the first of which tells you how well-protected a product is against solid matter (dust, dirt) and second lets you know about how well it can stand up to liquid ingress.
Simply put. IPX5 means protection from water projected from a nozzle or a water tap. So this is quite a good rating for a speaker that costs nearly Rs 2k. But don't take it under water.
This quality of Boat Stone 260 Portable Bluetooth Speakers makes it a travel essential for trips and pool/beach parties that might get a bit wet!
Connectivity?…its Bluetooth 4.1
With Bluetooth 4.1 wireless technology you can quickly connect your mobile phone, tablet, and laptop with this Boat speaker and enjoy signal transmission with no loss of audio performance. It can be paired quickly too.
In case if you don't know the range of Bluetooth 4.1, then it is about 30 meters.
So is Bluetooth 4.1 is the latest technology of Bluetooth? The answer is No. Bluetooth 5 has come up now and it uses low energy transmission that allows devices to operate on a range 4 times more than a Bluetooth 4.1 supported device. But the downside of Bluetooth 5 technology is it has to sacrifice the data range for its longer range.
Nevertheless, Bluetooth 4.1 should do your job in most cases.
Hang Anywhere
It has got a carabiner hook. A carabiner is a coupling link with a safety closure, used by rock climbers.
With this hook, you can hang it anywhere be it in your backpack, jeans or a bike. You can flaunt the stone 260 with this type of hook.
Colorful design
If there is something that makes the stone 260 stands out from the rest then its gotta be the colorful design that it has got. It is the first impression that makes you look at it once again.
Painted with criss-cross patterns, guitars, radios, drums, shoes, cameras, glasses, buses and what not. A music lover will surely love this colorful design that the stone 260 brings with it.

Battery Backup
It comes with a 1000 mah lithium ion battery. The company claims it last for 9 hours of talk-time and 4-5 hrs of music and yes…it delivers what it says.
Build Quality
The body is constructed of durable silicone, rubber matte finish that makes it shockproof and offers good all-around outdoor protection against accidental fall, dust, and water (thanks to IPX5).
Sound Quality
Output power is of 3W. The clarity of sound that this speaker produces is really good. However the loudness and bass are average. But if you consider the price, design and durability factor, no other speaker comes close to this.
Boat Stone 260 price
The price of a boat stone 260 portable Bluetooth speaker varies from Rs 1399 to Rs 1499. If you compare it with its prime competitor JBL go, then it is slightly cheaper.
Final Verdict on Boat Stone 260
Yes, boat stone 260 is a great speaker. You can consider buying it because of its cool and unique designs, different color options, clarity of sound and good build quality. Yes, I agree that the sound loudness and bass could have been a little bit better, but again expecting everything in a Rs 1500 product is not fair.
The only best alternative ( Boat Stone 260 Vs JBL Go)
However, if you need some more bass and loudness then the only alternative you should consider is JBL GO Portable Wireless Bluetooth Speaker with Mic (Orange)
The best quality about JBL go Bluetooth speaker is its sound; thanks to its noise cancellation technology. It has got better bass and loudness than stone 260. In addition to Bluetooth, it has got a 3.5 mm aux input to connect your mobile devices.
It weighs about 132 g compared to 440 g of boat stone 260. So it is much more lighter than stone 260 and with its pocket-sized body, you can carry it easily to anywhere in your pocket.
Still Confused which one to buy?…….
Well, some people prefer low bass and loudness because it gives a more soothing experience while listening to your favorite music. If you fall into that category then go for Boat stone 260.
Otherwise, with its good bass and overall sound quality – JBL go is the speaker you should consider buying.