BSNL FTTH modem or ONT- Price, where to purchase and all
If you are planning to get a BSNL FTTH connection or if you already have a BSNL FTTH connection and you want to know about the BSNL FTTH modem, commonly known as ONT(Optical Network Terminal), its price, features and different types then you will find that information on this post.
So, What exactly a FTTH modem aka ONT is?
FTTH (Fiber To The Home) is relatively new technology compared to ADSL broadband where ISP provides broadband connectivity using conventional copper cable that used to carry the voice signal over a telephone line.
But FTTH uses Optical fiber cable which has very high bandwidth and can carry lot of data. That's why ISP can provide high-speed internet over fiber cable.
FTTH modem or ONT Vs ADSL Modem
Since ADSL uses copper cable and it carries electrical signal, a modem is required in order to convert that electrical signal to digital so that your PC/laptop undersands it and vice versa.
Similarly a FTTH modem or ONT converts optical signal coming from optical fiber cable to digital signal.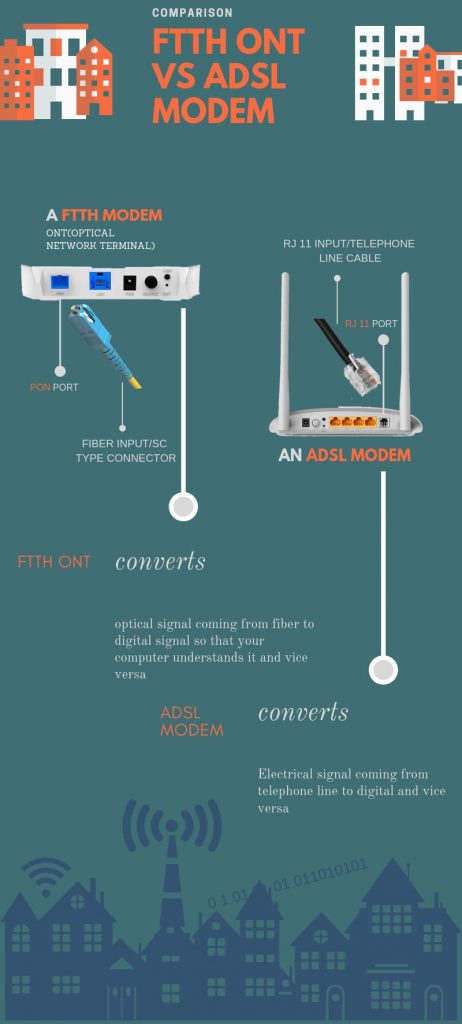 BSNL FTTH Modem or ONT price
BSNL FTTH ONT PRICE
ONT ON RENTAL BASIS
ONT TYPE-A(WITHOUT WIFI FACILITY)
ONT TYPE-B(WITH WIFI FACILITY)
Security Deposit(Refundable)
Rs 500.00
Security Deposit(Refundable)
Rs 1500.00
ONT Rent Per Month
Rs 90.00
ONT Rent per month
Rs 200.00
ONT PURCHASED FROM BSNL
ONT TYPE-A
ONT TYPE-B
Security
N/A
Security
N/A
Price
Rs 11999.00
Price
Rs 14500.00
BSNL ONT Type A Vs Type B

BSNL provides two types of ONT along with an FTTH connection. One is TYPE-A, which has no wifi facility and other is TYPE-B which is basically an ONT connected with ADSL WiFi modem to give an experience of WiFi to FTTH subscriber.


BSNL FTTH ONT Security deposit
A refundable security deposit is taken from customers who want to take the ONT on rental basis from BSNL.
If you want the ONT TYPE-A COnfiguration, then you have to pay Rs 500.00(refundable) as a security deposit. For TYPE-B ONT, one has to pay Rs 1500.00(refundable).
When you return the ONT to BSNL you will get that security amount refunded. But please note that ONT must be in a working condition.
Refund procedure is simple. Just submit a cancelled cheque that has IFSC code and Bank account number written on it and they will transfer the amount directly to your bank account, hopefull within a month.
Can you purchase ONT from market?
BSNL has clearly mentioned that customers can use their own ONT purchased from market which is subject to interoperability with BSNL.
There are few ONT available online, and I have found one of them that works with BSNL FTTH, whose link will be shared below.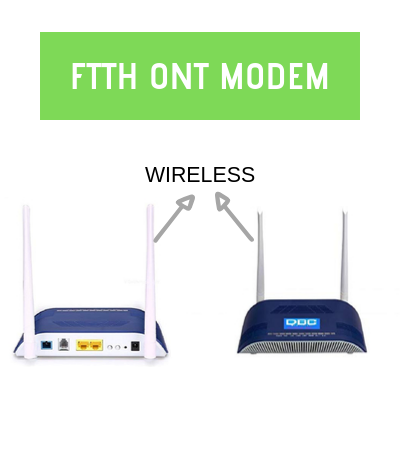 This ONT has 802.11 n Wireless technology along with common features like NAT, Firewall, VLAN, QoS, etc. This ONT also has two LAN ports. You don't need a separate wifi router with this ONT.
Can I purchase FTTH ONT directly from BSNL?
Yes, you can. But the price will be very high.
If you do not want to purchase FTTH ONT from online, then i suggest you to take FTTH ONT modem TYPE A from BSNL on rental basis and purchase a WiFI router for BSNL FTTH to use it with WiFi.
Since ONT TYPE A does not has WiFi facility, in order to use the WiFi, you have to connect the ONT to a WiFi router.
As you can see on the table above that the selling price of the ONT device is really high. I advise you to rent the ONT TYPE A @Rs 90.00/month from BSNL and buy a wifi router on your own from elsewhere. This way you will save some money.
How to Book BharatFiber or BSNL FTTH
In order to book for Bharatfiber or BSNL FTTH, send sms BHARATFIBER to 54141 (from BSNL mobile) or to 9400054141(from other operator).
You might want to Check out some BSNL FTTH plans 2019 too or you may check BSNL's official website for further FTTH related information.
If you have any queries, feel free to write it on the comment section below.