BSNL wimax plans 2017 | Tariff for postpaid wimax
One of the major services of BSNL is its Wireless broadband known as WiMAX (Worldwide Interoperability for Microwave Access). BSNL WiMAX service is operating in all the rural areas of India where providing wired broadband connectivity is not technically feasible. We have designed a pdf and an infographic for people who want to know the various plans of BSNL WiMAX. This includes BSNL WiMAX plans for 2017 and a detail explanation of how much it costs to get a new BSNL WiMAX connection and what could be the possible monthly bill.
BSNL wimax plans 2017 – Postpaid Tariff
You may Download here bsnl-wimax-plans-2017.pdf (1429 downloads) .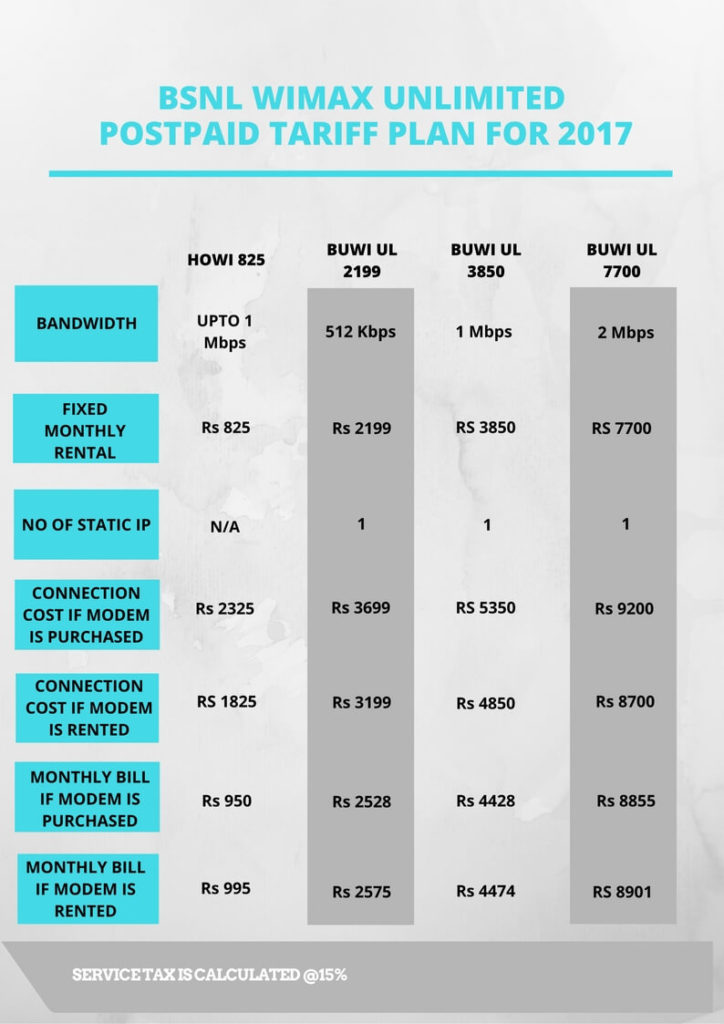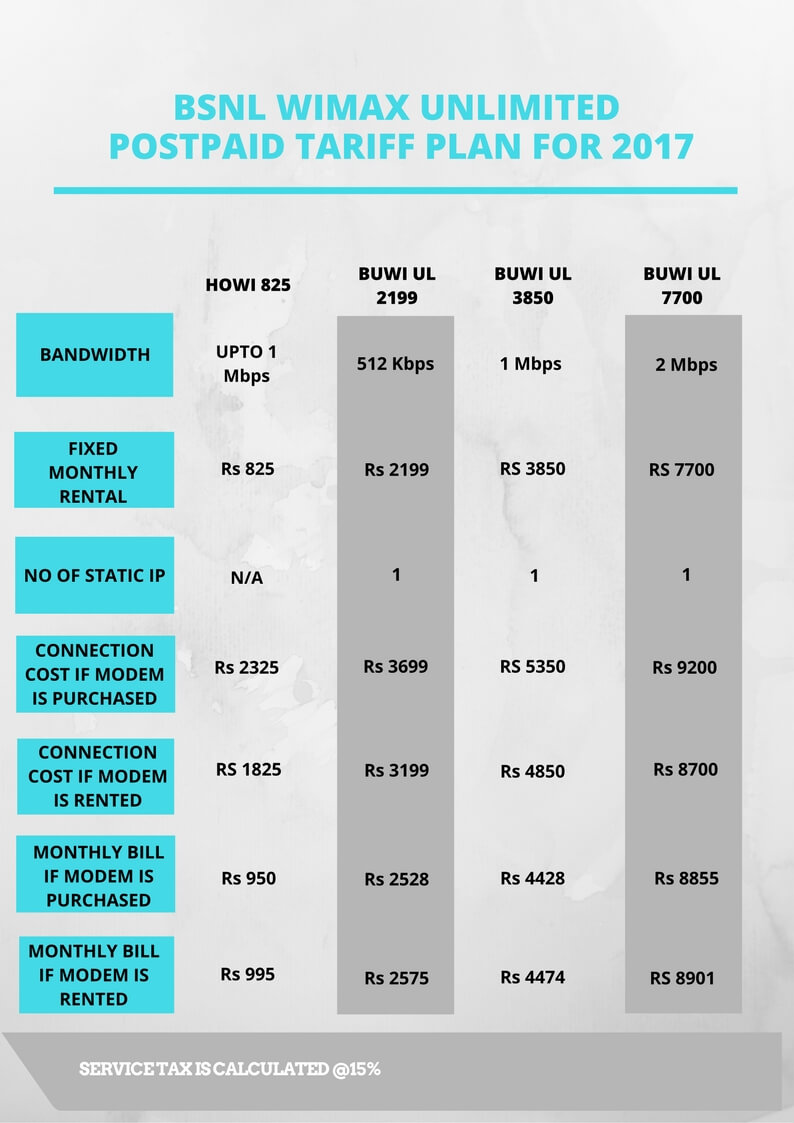 For Gujrat, Maharastra, and Andhrapradesh: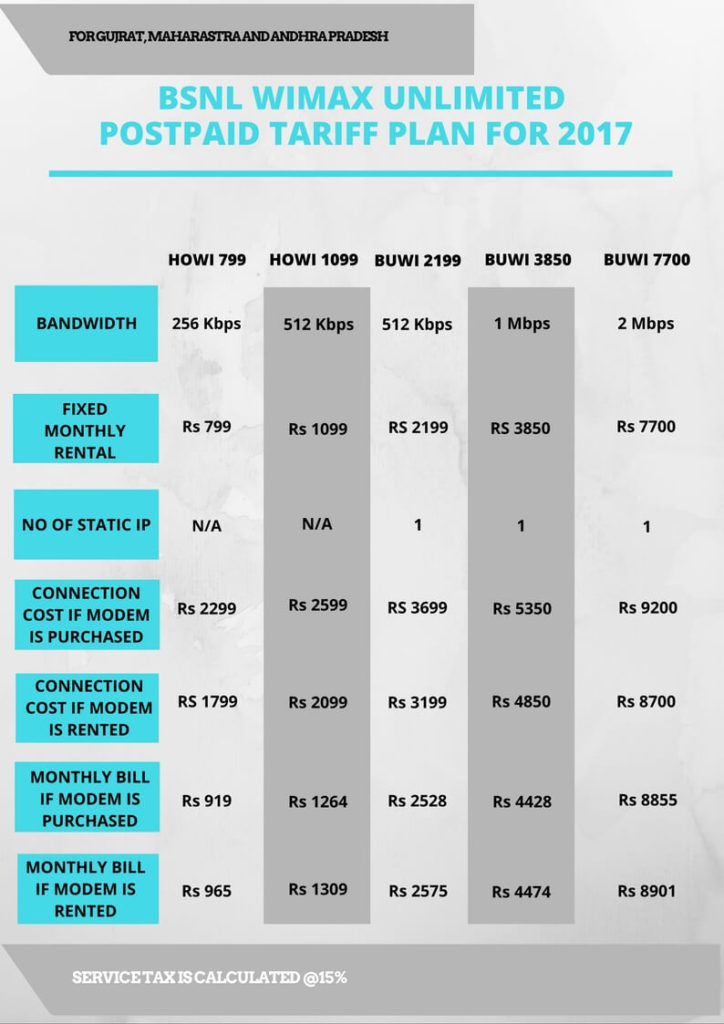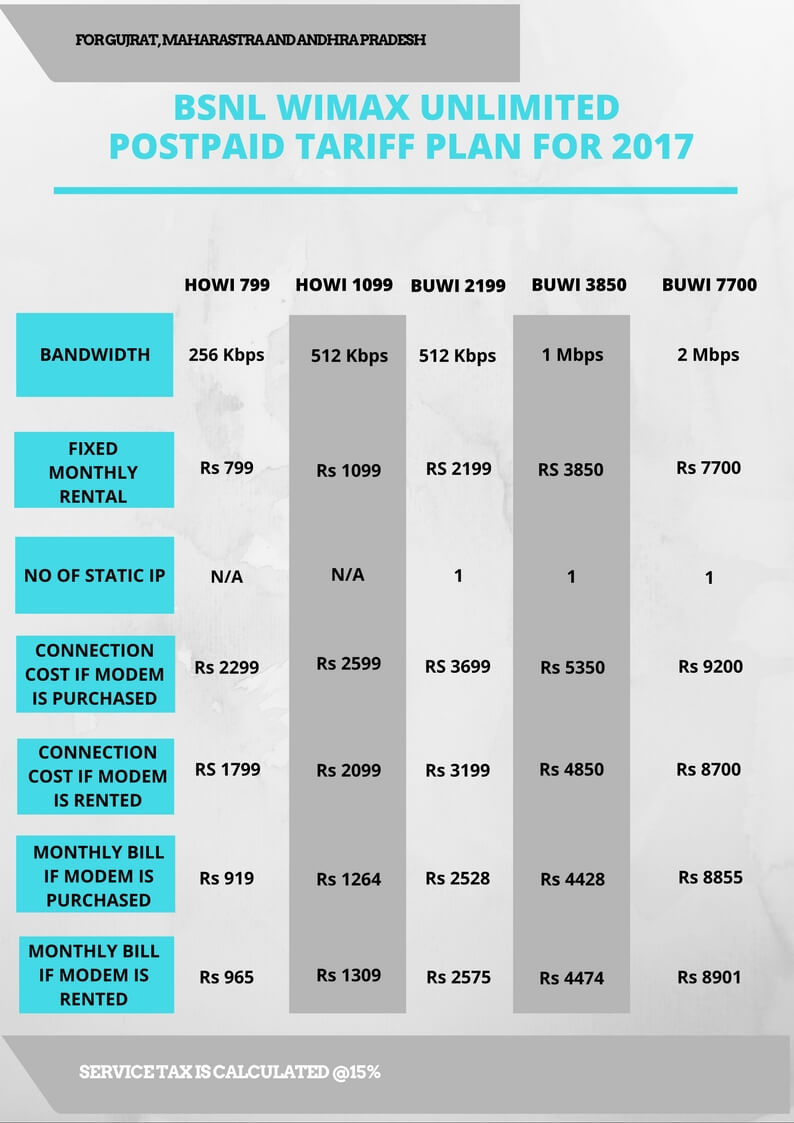 How much will BSNL WiMAX cost?
You can buy the WiMAX CPE or modem directly from BSNL at Rs 1500.00 or you can rent the modem for Rs 40.00 per month. This rented amount will be integrated into your monthly bill. At the time of connection, you have to pay a security deposit equal to the amount of your opted BSNL WiMAX plan. For example, if you have decided to purchase the WiMAX modem then you have to pay Rs 1500 and your one month plan rental as security deposit which is refundable(not the modem cost). In another case, if you choose to rent the WiMAX modem then you have to pay one-month plan rental plus Rs 1000.00 as modem security deposit which is also refundable at the time of closing the connection.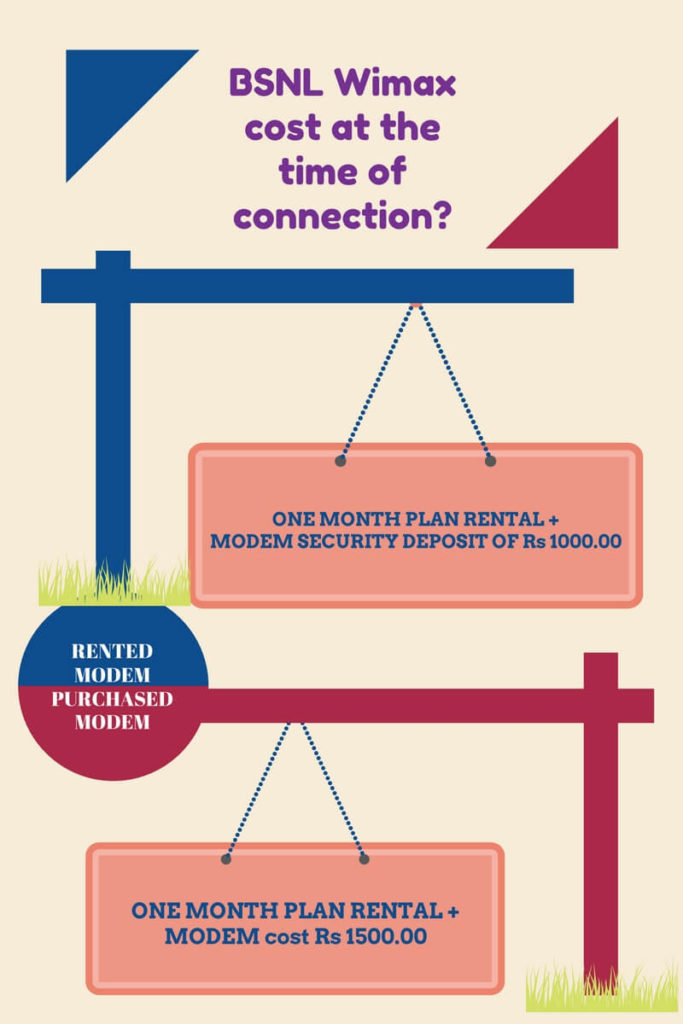 What could be a possible monthly bill of BSNL WiMAX?
Monthly bill amount is fixed when you choose any of the above mentioned Unlimited BSNL WiMAX postpaid plans. It won't cost you more than a certain fixed amount no matter how much you download or browse. Your monthly bill includes a fixed monthly charge or rental based on what plan you choose plus service tax (subject to change). If you rent the WiMAX modem then an additional amount of Rs 40.00 will be charged as modem rental charge.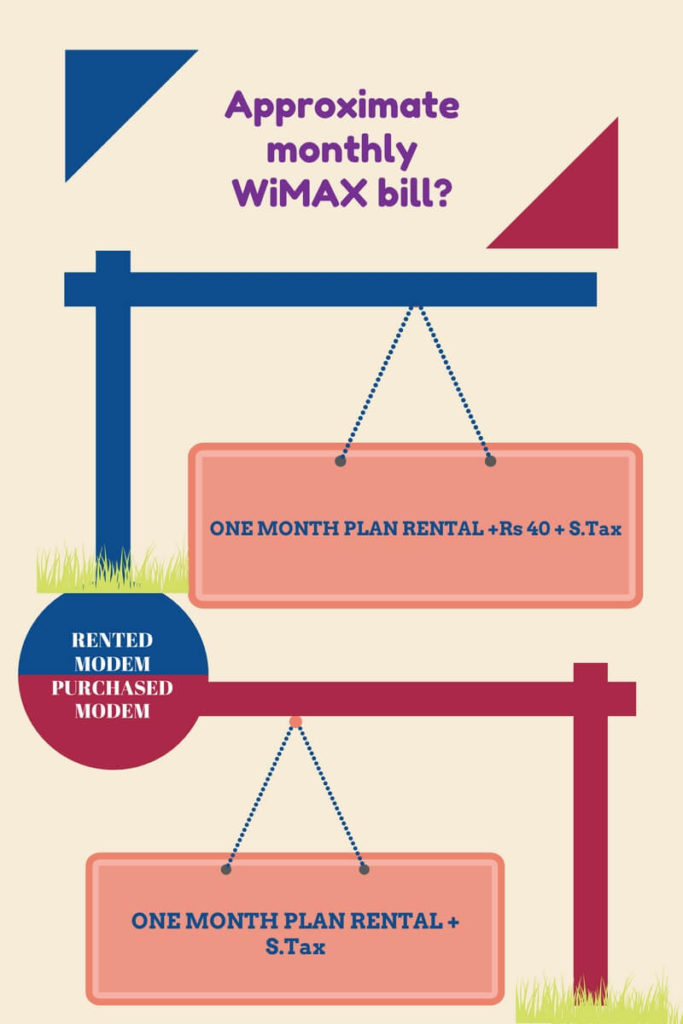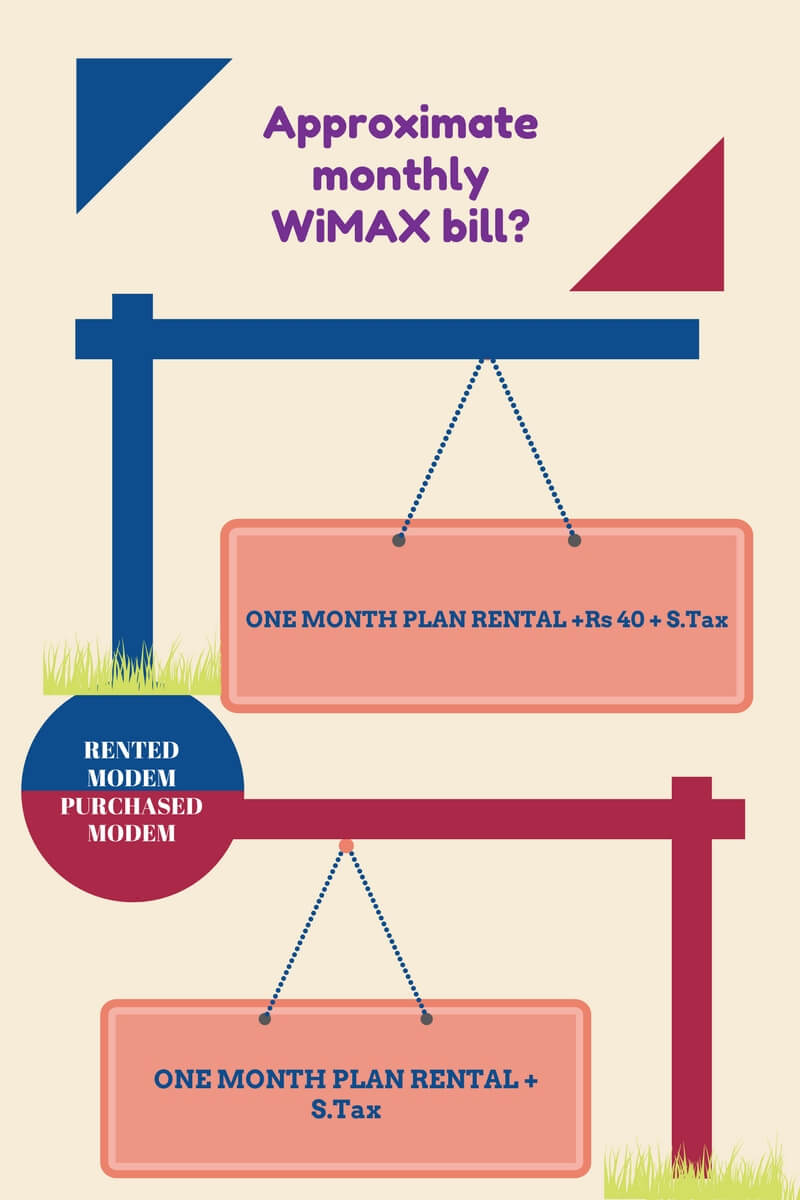 Don't forget to share the images and the post if you like it. Also, please like our Facebook page, you may also follow Bpedia on Twitter and Google+. Thank you and stay visiting Bpedia for more awesome tech news.