How to change IP address of a router
Are you looking for an article on how to change IP of a router? I assure you that you are in a right place. Today I am going to show you how to change router's IP in 3 simple steps.
Overview:
Find out the router's IP.

Login to the router.

Change the IP.
Step 1:
Before changing the router's IP, you need to login to the router for making necessary changes and to login to your router you first need to know the IP of your router. For that
Open Command prompt→ Type ipconfig→Press Enter.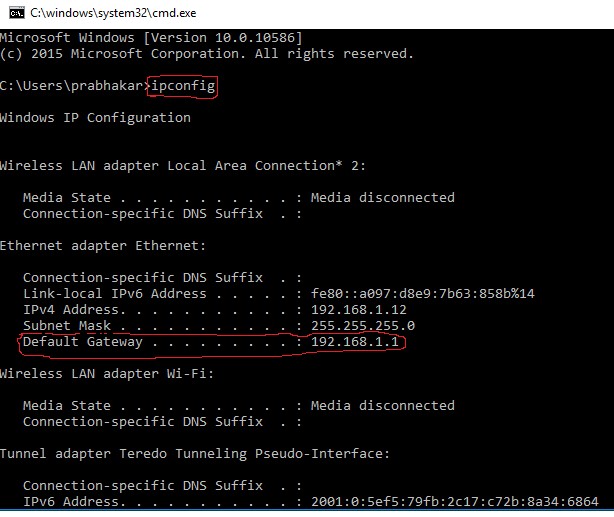 The default gateway showed under Red circle is your router's IP.
Read Also: How to open a router or modem's Home page or configuration page.
Step 2:
Now type the router's IP 192.168.1.1 on any browser and press Enter. You will be asked to enter username and password. In most cases the username and password are admin. But different router may use a different combination of username and password. If you do not know the router's login credential, then check the manual provided along with the router or you can google it with your router's model no. Once you fill the username and password, you will be redirected to router's status page.
P.S: The router I choose here is BSNL DSL W200 SY. So if you are using a different router, the user interface may not be the same, but after reading the complete article I am sure that you will be able to change the IP of your router.
Step 3:
Click on Interface Setup→LAN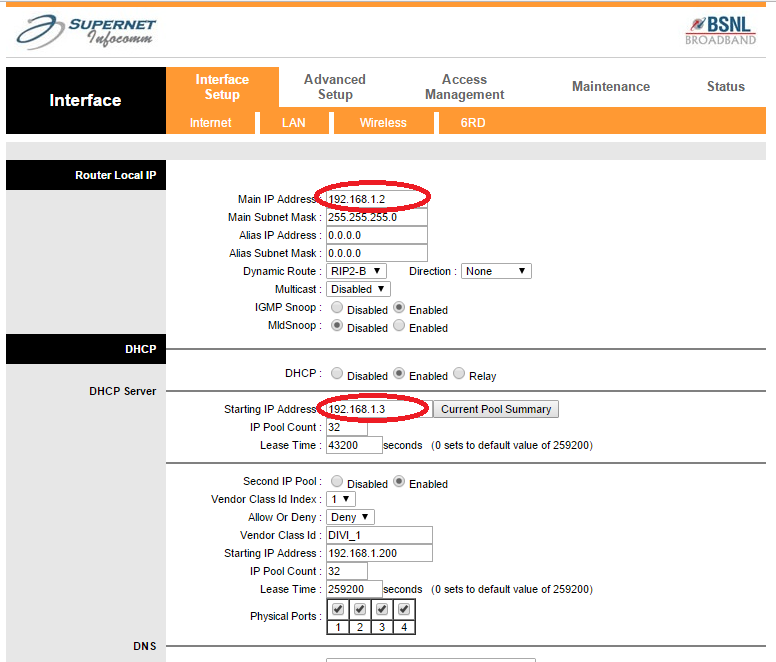 Here you need to make changes in the Main IP address field as shown in the red circle. Put your desired IP address of your router that you want to change. As you can see from the above screenshot that initially my router's IP was 192.168.1.1, now I have changed it to 192.168.1.2. Once you change the router's IP, go to starting IP address to change it to 192.168.1.3. Since I have changed my router's IP to 192.168.1.2, it will now assign IP to its connected device from its reserved IP pool which starts from 192.168.1.3. Please do not put the router's IP and starting IP address same. Once you are done putting these two fields hit the Save button. Close the browser after few minutes and try to open the router home page again with the changed IP address i.e 192.168.1.2 in my case. If you have found difficulty in changing it, please provide the detail in the comment section below. I would love to help you.
 If you have liked this post please do share. Also please like Bpedia on facebook and follow us on twitter and Google+ for more updates and interesting tech info. Thank You.
Featured Image credit: Tnarik Innael