Bsnl 339 plan-All new Thrilling bsnl offer[Updated June 2017]
All right then! Let the Telecommunication war begin- That's how I reacted when BSNL announced their all new prepaid offer.
When Reliance Jio is launching lucrative 4G plans one after another, State-run Telco BSNL has now decided to counterattack by launching all new BSNL 339 plan which is valid across India. I am telling you guys, the way Telecom companies are presenting such exciting offers, that day is not far when they will pay you to use their services -Just kidding, Never Gonna Happen. Anyway, let's take a look at this new BSNL offer.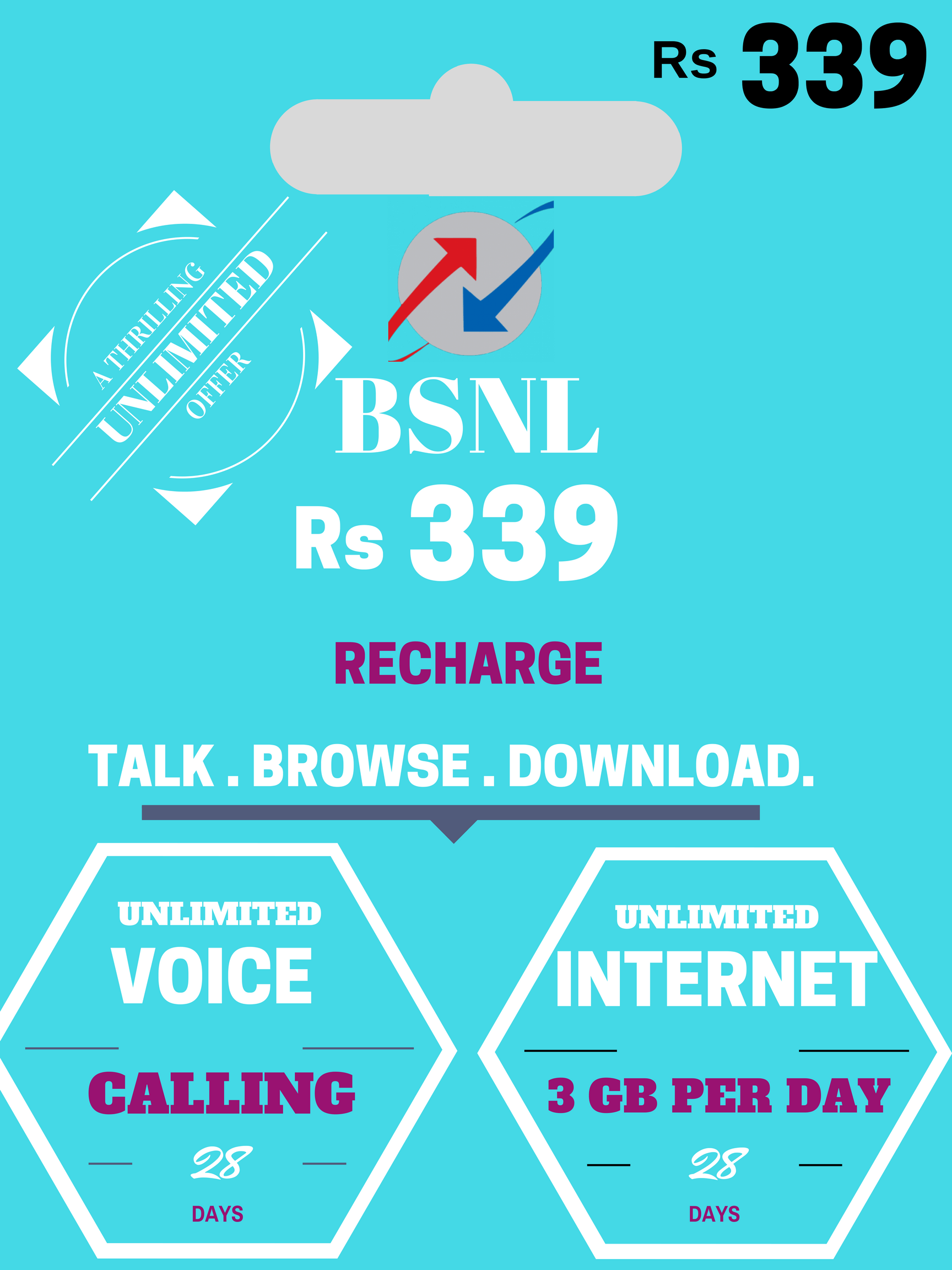 BSNL 339 plan- Why this is a most exciting BSNL offer
This new BSNL plan is valid for 28 days. With BSNL 339 plan, you will get 3 GB of 3G data per day, means you will get  84GB data for one month. Once you cross the daily data limit, you will get a throttled speed of 80 Kbps. In addition to that, you can enjoy unlimited BSNL to BSNL calling. If you call to other networks from your BSNL number you will get 25 min per day for free. Once you cross that voice cap of 25 min, you will be charged at 25 paise per min. This offer is valid for 90 days w.e.f 16 March 2017. My view? BSNL will try to continue with the plan to gain the maximum benefit of it.
How to Recharge
Believe it or not, You do not have to pay Rs 339 to activate this plan. You will need only Rs 295 to activate this plan on your BSNL number if you recharge from self-care. Let me tell you how….
If you have a minimum Rs 295 balance on your BSNL number, you can instantly activate BSNL 339 plan by dialing a simple USSD code. Here's the code:
*444*339#
That's how you can save about Rs 45.00.
How cool is that, isn't it?
Now, let's look at some reasons why you should consider using BSNL 339 plan over Jio.
Comparison with Reliance Jio
Reliance Jio under its prime membership of Rs303 is providing 1GB 4G data per day to its customer. Considering that point, BSNL is offering extra 2 GB data than Reliance Jio. Although Reliance Jio provides unlimited voice calling to all networks across India, BSNL's new offer is worth considering because everyone nowadays uses more data than voice. If you are kind of person who does get worried about that 1 GB data cap, then BSNL 339 plan is worth considering. I personally like to browse or download without worrying about the speed reduction and with 3GB of data you do not need to worry about that.  You can always do some extra stuff on the internet with that extra 2 GB you are getting with BSNL,
At the end of the day,  it is data that we consume more than voice, besides no one has time to talk unlimited. I suggest you to use your money wisely. If you have liked this post, please like our page on Facebook and follow us on Twitter and Google+. Don't be shy to share this post. Keep visiting for more exciting news. Ba-Bye
Source: BSNL