Best ADSL wifi modem for BSNL Broadband
It is easy to get overwhelmed when you want to buy the best modem for your BSNL broadband connection because there are thousands of modem out there online. It is really difficult to choose among them. I also used to get confused.
But Today, I will explain to you how to select the best modem for your broadband and what features you need to look for while buying a modem.
I will also tell my number one and only pick and will tell you why I prefer recommending this device for most of the broadband user.
Without further ado…let's dive right in.
What features to look for while buying The Best ADSL modem for Broadband
Security
A few months back, it wreaks havoc among BSNL subscriber when botnet and malware attacked their modem and It happened all over India.
It took months to restore all the broadband connection. Many subscribers got panicked and worried about their online security.
So, you should always prioritize security aspect as topmost criteria while picking up a modem, you cannot compromise with security.
Ann most important thing is not even a single modem (of my recommended pick) got attacked by the botnet and malware. I may be wrong, but out of 500 subscribers, I did not find complaining a single subscriber who was using this modem.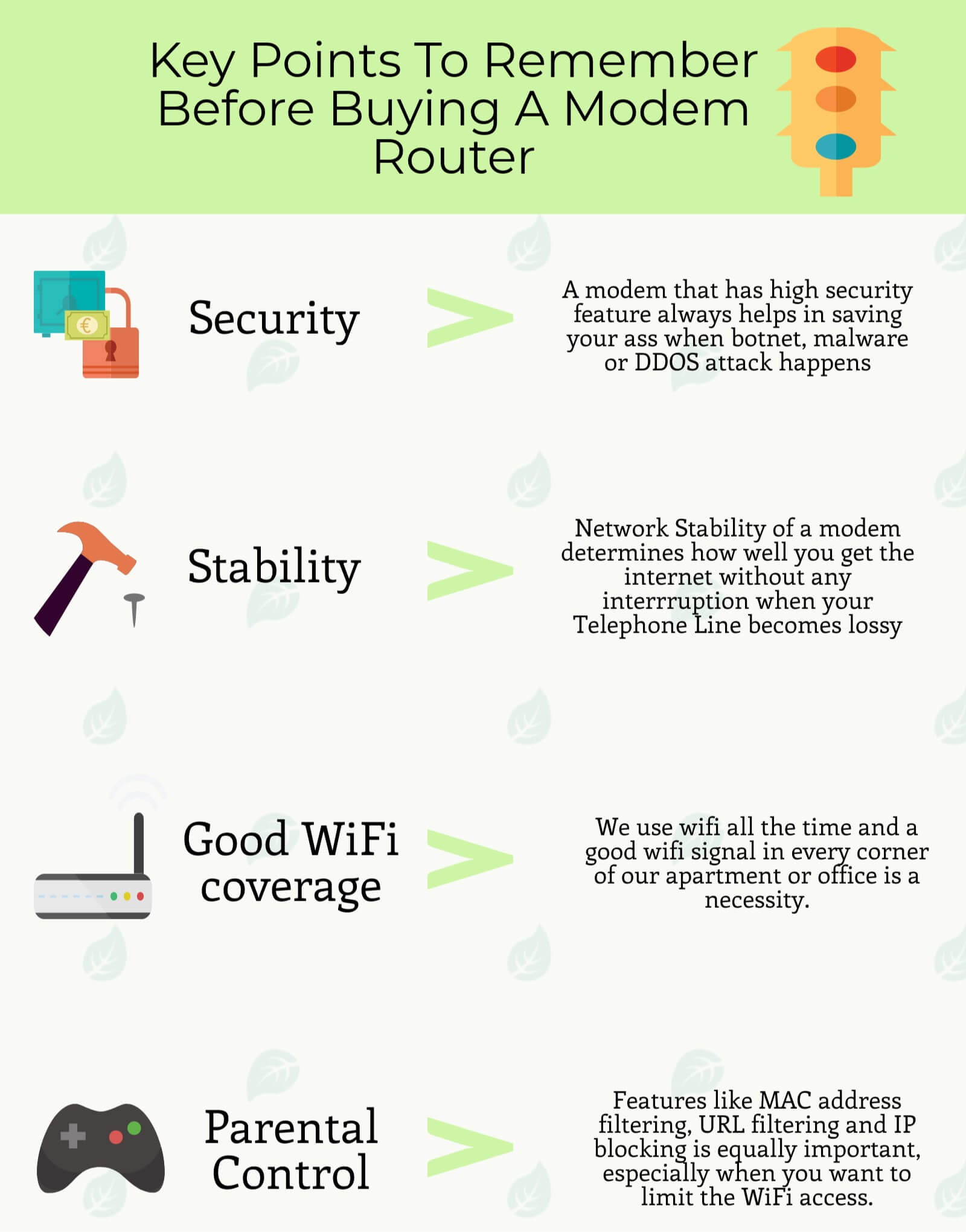 Network Stability
Your 2nd criteria in picking a modem should be its network stability. If I put it in simple, network stability of a modem is how well a modem can provide stable connectivity at low SNR level.
SNR is 'signal to noise' ratio. If your DSL line has a low SNR, which may happen due to different reasons(mainly due to loss), then you won't get a stable connection and as a result, DSL led on your modem often goes on and off and you will not get the internet connection.
So, it is essential to have a modem which has really good network stability.
Good Wi-Fi coverage
I can't emphasize more on how important nowadays to have a modem with good wifi coverage.
When wifi coverage of a modem depends on various factors like Transmission power of antennas, Wifi channels, IEEE 802.11 WLAN standards and many more.
The transmission power of antenna plays an important role in deciding coverage of wifi signals. Anything that is more or equal to 20 dBm is considered to have a good wifi coverage.
Nowadays 802.11n WLAN standard supported modem is more popular because it can transfer data wirelessly at a speed of 300 Mbps.
With increasing number of wifi access points all over the places, sometimes your neighbor's wifi access point might interfere with your access point as most of them operate over the same channel. So a modem that supports 802.11 n has significantly more number of wifi channels and hence eliminating the interference issue.
Parental control and MAC address filtering
This feature comes handy if you want to control the number of devices using your wifi network. If people are using your wifi without your knowledge and you do not know how to control them then simply use the MAC address filtering option and block all the unwanted devices from accessing your network.
Parents with kids around their home using wifi often get concerned about the content they are using over the internet. With content filtering (URL Filtering) option you can block the URL of the adult sites and any other websites that you do not want your kids to watch or browse.
So, above are my top preferred feature that I look for while buying and recommending a modem and with that in mind, i do not find anything better than D-Link DSL-2750U Wireless N 300 ADSL2 + Router
. It's cheap, easy to use and overall it has all the features I have mentioned above.
I always and always recommend using this modem with BSNL broadband and trust me…you won't regret. This is also a good choice if you are using Airtel broadband, MTNL, Reliance or Tata Indicom.
Please Note: Above link is an affiliate link. If you buy from this link then I earn a little commission which helps this website keep running.
Now let's look at some of its features that are worth mentioning.
Easy To Configure
D-Link DSL 2750U comes with an easy setup wizard which means configuring the device is super easy. All you need to do is put username and password with proper VPI/VCI value and you are ready to go.
You can mount the device on a wall or according to your convenience. For better wifi coverage, place the device horizontally in a higher position. This will allow the wifi signals to travel a maximum area and hence giving better coverage.
Supports major ISP
It supports all the major ISP including BSNL, MTNL, Airtel, Reliance Communication and Tata Indicom. However, it does not supports ISPs like Hathway, ACT, Tikona, MyWorld, Nextra, Siti Cable, You Broadband, Spectranet etc.
Input Type
Input type is RJ11( Telephone Line). It has 4 Lan ports meaning you will be able to connect 4 different devices over LAN at the same time.
Also, you can connect multiple devices to WiFi without any issues. It supports 802.11n so you will get WiFi speed upto 300Mbps.
Security
The router supports WPA2-PSK encryption to keep your network traffic secure. The firewall and QoS feature enables it to operate smoothly and securely.
Use as a WiFi router
You can also use this modem only as a wifi router. This feature comes handy when you already own a DSL modem that does not support WiFi. Also, people using services like WiMAX can also use this modem to use WiFi.
You need to tweak the configuration a little if you want to use it as a wifi router only. You can call their customer support team and they will let you know how to do that. Here's the D-Link tech support number if you need in case 1800 233 3999.
I hope you find this post useful. Please do let me know in the comment section below what features in a modem you look for while purchasing a new modem for your broadband connection.
Liked this post? Please share it and support us by liking our page on Facebook and following us on Twitter and Google+. Keep visiting Bpedia. See you soon.