How to block wifi users in BSNL modem router using mac address filter
It becomes absolutely important to block wifi users in your BSNL modem router when Unknown people uses your wifi without your concern and your internet speed gets slower.
And it becomes more frustrating when you have no idea how to control or restrict these users from using your wifi.
Let me tell you this…You can easily block all unknown devices and people from using your wifi who are causing your internet slow. And when you do that, not only your internet speed gets faster, but also you will be able to control a high amount of data usage on your Internet.
And in today's post, I am going to show you how to block wifi users in your BSNL modem router using MAC address filtering option.
Let's dive right in.
I will cover the entire post in 2 step. Don't miss out.
Steps to block wifi users in your BSNL modem router
STEP 1
First, It is important to identify all users on your network who are using your wifi.
Ever heard of MAC address? If not then let me tell you briefly what a mac address is.
A MAC address is a unique number of a network device and it is important for making communication. Every network device has a unique mac address, be it your computer, smartphone or a laptop.
Why am i telling you this? Because we will identify the mac addresses of devices who are on your wifi network and block them all on your BSNL modem router.
I have already created a post on how to check devices connected to BSNL wifi.
Now that you have a list of all the mac addresses of the devices using your wifi. A question pops out.
How do you know which mac address is yours?
Don't worry….. if you do not know how to check mac addresses of your smartphone or PC/Laptop. Check it out below. It will take not more than 2-3 min to figure it out.
Once you find out the mac address of your devices, your job is 90% done.
I encourage you to prepare a list like shown below. This is not absolutely necessary, but believe me, it will make your job easier. It will be easier to filter out the unknown devices if you prepare a list.
Here's an example how I did it.
You can download this template file if u wish.
STEP 2
Now that you have the list of all the devices, I will show you how to block them using mac address filter option on your BSNL modem router.
Also see: How to block wifi users in D-link router.
Login to your BSNL modem router by typing 192.168.1.1 into your browser address bar.
When asked for username and password, put both as 'admin' (without the inverted comma).
Go to interface setup → Wireless → 'Active' wireless MAC address filter option.
When you Active the MAC address filter, you have two option to choose.
1 Allow Association – When you select this option, added mac address of the devices will be able to access your wifi network.
2 Deny Association –  If you select this option, added mac address of the devices will be blocked from using your wifi.
Allow association option is ideal when you have more number of unknown devices than known devices on your network. Let me quickly give you an example…
Say, you have total 15 numbers of devices connected to your wifi and out of 15, only 2 devices you want to be on your network. So it is easy to allow only 2 devices rather than blocking 13 devices one by one. This will certainly take less effort.
On the other hand, if you have more number of devices that you know than unknown devices, you should choose the 2nd option i.e. to deny association.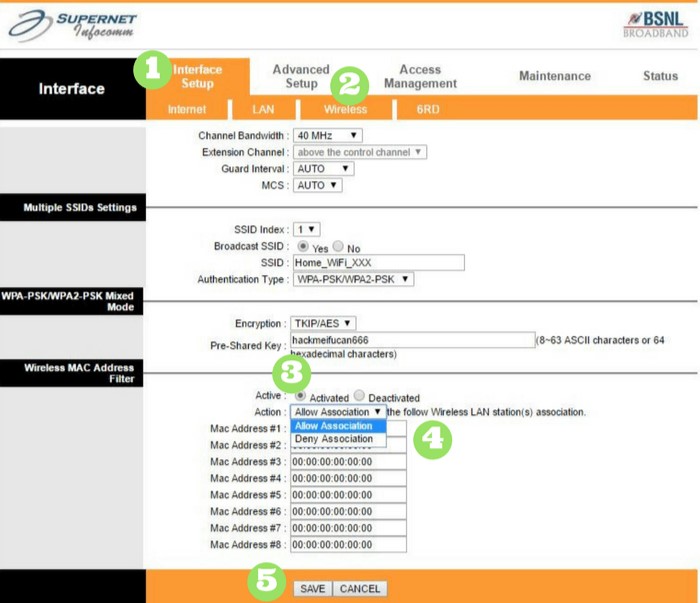 Now that, you know which devices you want to allow or block, simply add the mac addresses of these devices one by one as shown below.
Once you finish entering, hit the save button and all those unwanted devices will instantly get kicked out from your wifi network and your internet speed will boost up too.
If you have liked this post and find it useful, then please like our page on Facebook and follow us on Twitter and Google+. Don't be shy to share this post if you find it useful. Keep visiting Bpedia for more exciting information. Ba-Bye.